I moved the cats out of the spare room and into the office so that way they can get much more attention throughout the day. Night #1 went very well. Night #2? Well I woke up to this:
Otter tries to look as innocent as possible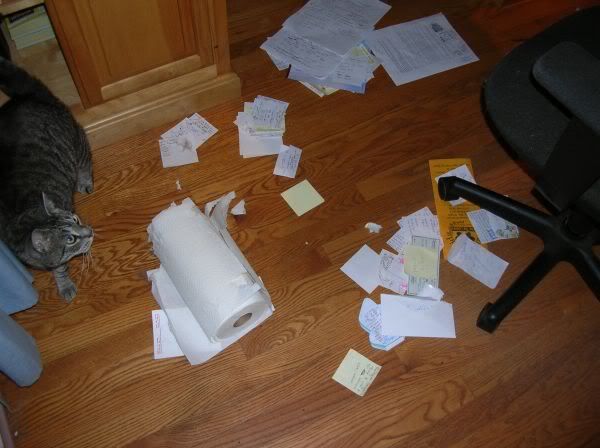 While Jimmy surveys the damage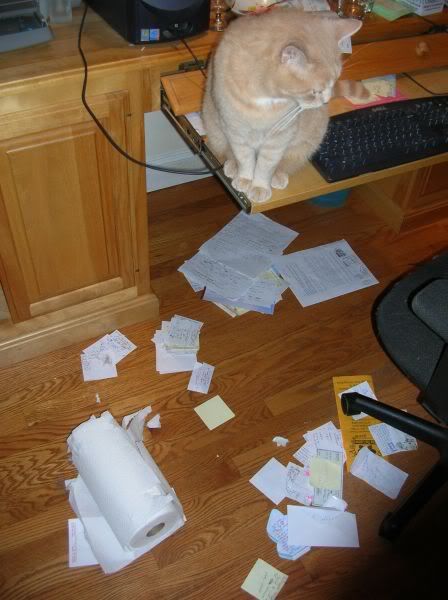 The paper towels have been SHREDDED! And all of those pieces of paper were some very nicely organized messages that I need to go through this morning, but I'll obviously not finish. Damn cats!
The paper towels are definitely a la Otter because they were in the cabinet and he's notorious for opening cabinet doors (must get baby locks), the messages are probably Jimmy since he's been perched on top of them since they moved in. And I also found little kitty bitemarks, a la Otter, in the empty bag of cat food, the strap to my camera, and the corner of a check.
I swear they're worse than the dogs!! They'll be getting a cat tree/activity center within the next week or so, hopefully that will help cure some boredom, but who knows.
They're just lucky they're cute