Re-posting since my posts got lost when the server back-up went nutty.
My fourteen year old daughter Autumn. Freshman in High School, Honor Roll student and incredibly musically talented. She plays fife, flute, irish penny whistle, Bb Trumpet, Eb Trumpet, piano and guitar.
The kid amazes me. We got her a guitar for her birthday. Four hours later, she's out on the deck playing the choruses from Ironman by Iron Maiden and Nothing Else Matters by Metallica almost perfectly. She plays by ear mostly.
Shot with a long range lense at the New Haven St. Patrick's Day Parade by friend because she hates having her picture taken.
(Autumn actually knows how to use that bow. She has deadly aim)
Autumn & the Gremlin on the stairs at Hammond Castle in Gloucester, MA
Meet the exorcist, oops, I mean exerciser.
- Single handedly wears out two Pit Bulls with zoomies in a single hour.
- Climbs 6ft. chain link fences in 3 seconds flat.
- Defends Pit Bulls from ignorant people.
- Calls herself the best doggie feeder/waterer & doggie door kid ever.
- Fights with six year old boys in daycare and wins.
- Shares toys and sacrifices unwanted stuffed animals.
- Shows all her friends how to be nice to animals
- Lectures adults about "pit bull spon-sa-tility" in Home Depot.
- Calls Pit Bulls her bestest friends
Cailin, aka "the Gremlin". Four years old, hell on feet and opinionated.
She came up with this slogan herself!
The cutest little Pirate to sail the Seven Seas!
And last but not least, my husband Mark, who's so thrilled that I posted a picture of him on the internet in a skirt!
My first attempt at making a kilt and I happen to like the picture, so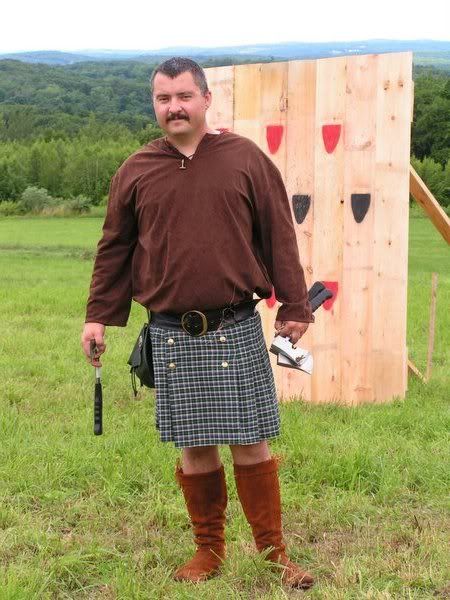 Not too many pictures of me as I flee from the camera in fear. This was one was taken by the same friend with the long range lense at the New Haven St. Patrick's Day Parade.
I don't have too many pictures of us in mundane clothes, so you get us in garb.