Yeah, that's right, I have cats. Two to be exact!
My best friend decided to move to AZ or CA . . . he hasn't really decided yet. He figured he'd pack up the van and just spend a few months driving out there, stopping for a week or so in a few different places that interest him, to see where he wants to live. He has two cats. Not only would they be pissed off at the car ride, but he's living out of his van until he settles and with the intense heat that's happening the cats would probably be kitty jerky in a matter of hours.
He left them with his sister when he left about a week ago. Well her cat decided that she didn't like them and kept attacking them. Her dog tried to protect the cat and got beaten up by one of my friend's cats. Too much bloodshed! So she called him, not even 48 hours after he had left, and said he needed to do something with them. 5 days later they came to live with me.
We had toyed with the idea of me fostering them but decided not to since one of his cats is a bit of a wuss and there are always dogs here. But oh well! I was his last hope.
I agreed to take them until November or December, and then fly them out to him. But we are both worried about them surviving the flight, so if all goes well here they may become permanent residents. Eeeeeek!
So now I have Saint Jimmy (aka: Sir Jimmimus) and Otter (aka: Otter the French Kitty . . . said with a wicked cheesy French accent). I have set them up their own safe haven in my extra office and they've been doing well so far, even with the kennel dogs barking. By the end of the week I will have a screen door (metal, not regular screen) in place in the door to their office. I want them to live in there for the next three weeks but have them be able to see/meet Wally and Mike through the door so everyone can get used to everyone else. I want to be able to let the boys out into the rest of the house eventually. Mike has met one cat and after getting swatted at sat in a corner and grumbled. Wally sees cats as a threat because my cat (who lives with my parents . . . at 18 years old and going senile we figured it best not to move her) latched herself onto Wally's face within seconds of meeting him so now when he sees a cat he wants it dead, and if it attacks him (ie: swats) he REALLY wants it dead. He's met Jimmy in the past and they've been fine until he meows. So I'm hoping with the month-long slow introductions they'll be fine in the end . . . but they will ALWAYS be seperated when I'm not around. Just as you can't trust a pit bull not to fight, you can't trust a Greyhound not to kill a cat.
Blah blah blah. Yammer yammer yammer. I don't have the best pictures of them, but here are the boys!
Otter . . .caught mid sniff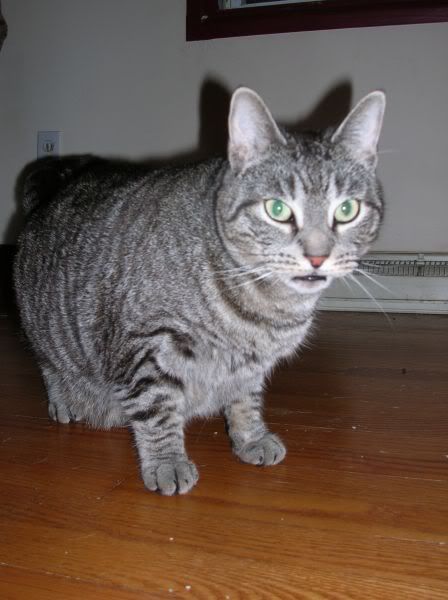 Saint Jimmy . . . he really does have 2 ears, I swear!!