Just driftin' around, and stumbled onto this forum. I'm really excited to meet all you fellow pitbull people, even though I have a thought I may know alot of you already!
Well anyway. My name is Libby, and I am the proud owner of one 19 month old APBT, Gypsy, and a Australian Cattle Dog mix, Lucy.
Here is Lucy, my cattle dog. She is six years old, and I've had her since she was 5 weeks old. My brother found her at a landfill, in a garbage bag with 4 other puppies, who were dead. He brought her to me, and I didn't think she would survive the night. But, with 24 hour care, we managed to get her hydrated, and moving. The rest is history!
And here is Gypsy.She is a 19 month old brindle pitbull. I got her from a family that had her and her sister when she was 9 weeks old. The family decided they could not handle the stigma against the breed, and asked me to take them. I took one, to rehome, because all I knew of 'pitbulls' at the time, was what was on the news. After two weeks of her being in my home, she became a permanent fixture. I did as much research I could on the breed, and became a very devoted pitbull person! She has been the best thing to happen to me in a long time, and she has not only opened my eyes to the real pitbull, but she has helped other people to see too.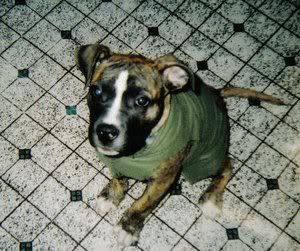 And the two together!
Well, thats about it! If you have any questions for me, feel free to ask. I don't bite!
Ket