So when I joined many months ago I said I would eventually post pics of my black lab, Brutus, who I've had now for half of my life. He's just over 11 years now and still such an active, lovey dog, even though I know at least one of his littermates passed away last year from heart problems
I remember how excited I was at only 10 to be -finally- getting the puppy I always wanted. And he was such a little bundle of puppy-fat and fur. He was the biggest of his litter, hence, the big brute, aka Brutus. He's really tall for a lab and once he grew up he was over 100lbs, I remember a period of time where we weighed the same as I when I was growing up!
During middle school and high school, you know, those awkward years... he was everything to me. I didn't have a lot of friends living close by so if I needed someone to cry on it was him. I've buried my face in his neck so many times I couldn't even count it. Sometimes I get jumpy when I'm home alone and when I hear a noise and get nervous if I call him up to my room he'll stand on my bed and look out the window with his tail high if he knows I'm scared. I doubt he'd do a very good job guarding me, he greets everyone like a long-lost friend, but he makes me feel better just being there.
I try not to think about how old he is for a big dog, my family is going to be lost without him. But he's hands-down the reason why I love dogs. He's the reason I went to volunteer at the local humane society when I had to do some sort of volunteer work for school. When I was there I met pitbulls up close and personal for the first time, and I was never the same for it. So in a way, he's the reason I'm on this forum today!
Anyway, enough nostalgia, on to pictures!!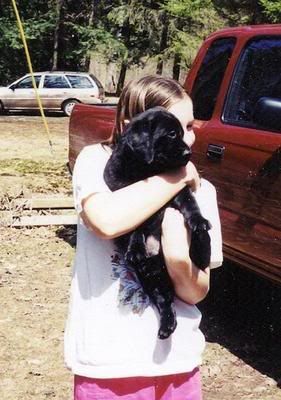 This was the first day we had him, such a little blob!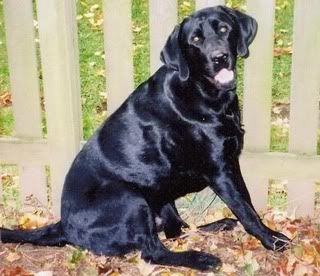 Handsome boy!!
More recent photo where you can see all his gray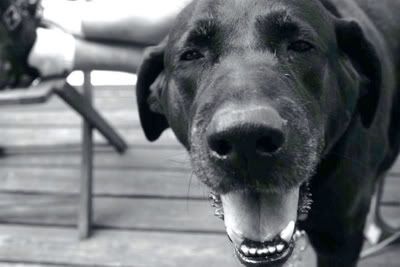 Most recent one I have, my cousin took this one, adorable...