So we're still looking for a new name for Fortune. I think it does fit him well, in the sense that he had a bad past (found as a 15lbs stray, caught pneumonia at the humane society and practically died, then pulled through)... But sadly, Fortune in french means the equivalent of wealth, money-wise, more than in the sense of good fortune which is what it is meant for him. Also calling Fortune in french just sounds weird (my niece was saying his name and I was just cringing inside).
So we're trying to find something that fits, but that's sort of bilingual - easily pronunced in both french and english... We're looking into fun names that mean something, and since he was a little hobo, possibly a punk-rock sort of name.
.
So far on the list, we've got Charlie Brown (I've been calling him brown or brun for fun, as well as poopy-pants)... But Charlie is a pretty common name so I'm not super thrilled. We've also got Mo or Moe (short for mohawk or also Moe from the Simpsons)... and other suggestions by my boyfriend that I'd rather not get into cause they're just plain retarded.
Here's some pictures to help get an idea of his character!
Being a doofus: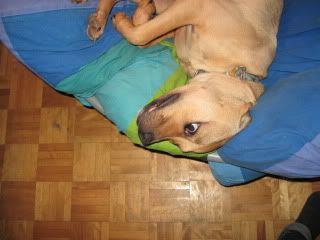 Playing with Jack (they take turns kicking each other's butts):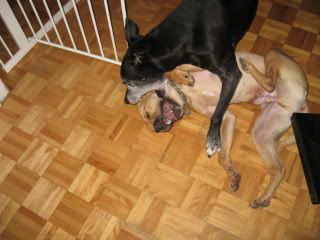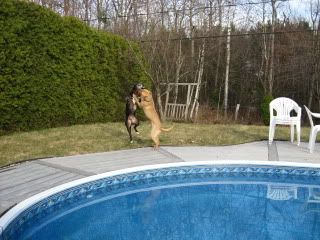 They want whatever my niece is eating: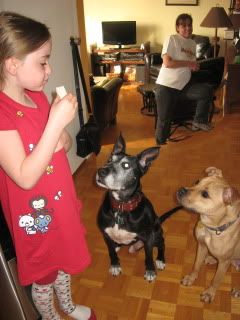 38 lbs lap dog: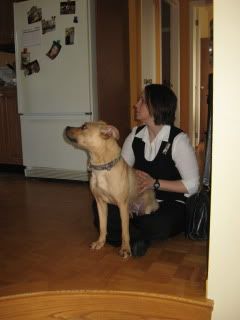 Loves his crate: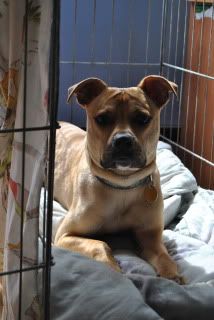 Feels right a at home on his first day: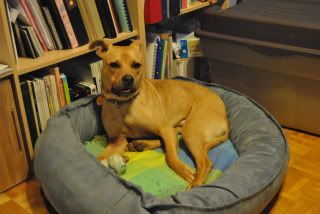 Lookin' handsome: