Jack just got his new PDG collar in the mail today. He was way overdue for a nice leather collar, the black one he has dates back from at least 6 years ago, it's ok, but...
The PDG one is something else. It's sooo nice. The stamping and details are fantastic, the colors are so nice, it's simple and it makes new saddle noises which I love. Jack was thrilled, his eyes were popping out of his head a little when I opened the package.
I'm sad I can't leave it on him in the house to break it in, because he literally will spend hours heating his face over the heat plinth, and the metal hardware gets way too hot! But he'll be struttin' his stuff in style in the great outdoors.
I took pictures inside, it was already super dark outside, but it will be featured in many more photos in the future.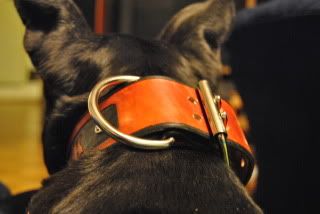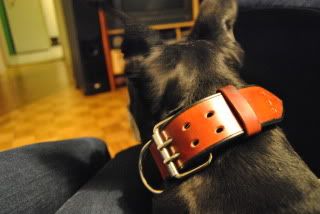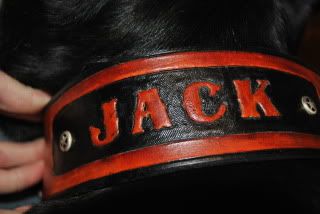 THANK YOU SO VERY MUCH TO THE DOG COLLAR FAIRY!!