Well here is my foster pup, Lady Louise, that I foster through PittieLove/Baypath Humane Society in MA.
http://www.pbrc.net/dogpages/east/pittielove6291.html
She is an 18 month old girl found roaming the streets of Medford. She was very thin and went through a horrible spay experience which left her in the hospital for days with a drain in, and she is still suffering the effects with spay incontinence and a droopy skin sack where the incision site is. But her spay incontinence has been slowly subsiding and she is feeling FANTASTIC! I hope to start her on obedience and housebreaking soon, but figured I would give her a break until the spay incontinence is gone.
She is a love bug who has been good with the dogs she's met, loves kids, and is absolutely terrified of my rabbit. I don't think I've ever seen a dog hit the deck as fast as she did the first time she came running around the corner into my office where the rabbit lives. LOL!!
So here are some pictures of her and her friend Kona, who is my roommate's foster dog through RRUFF.
The day I brought her home: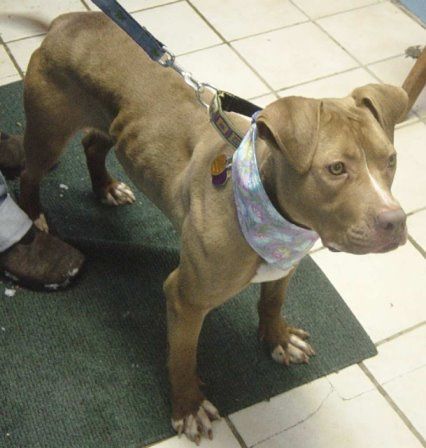 A little over a week later she already has more weight on her