I realized I hadn't posted any pics of my other 4-legged children, so here goes:
This is Toonces, my pride and joy. He's going to be 20 years old in July. We rescued him off the streets when he was about 4, so I've had him forever. He's my little man. Love him love him love him.
We think he's a Maine Coone. He doesn't actually walk on his leash, he just kinda "low-rides." It's just my way of letting him out in safety.
This is Grania, my hubby's seal-point Siamese. She just turned three years old on the 9th. We've had her since she was just a wee baby. She adores my hubby, could care less if I keeled over and died.
And she does have a tail...
This is Niobe, our little bowling ball. She'll be two in August but still looks like a kitten 'cause she's so round and fuzzy. Very chatty, too! The pic of her standing up, she's in her "praire-dogging" pose - she does it all the time! Too cute...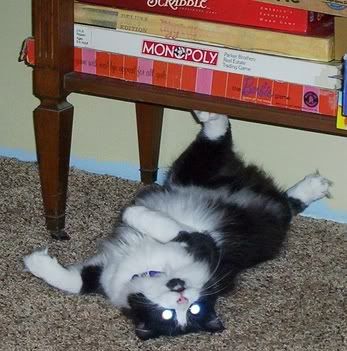 And here's one of Grania and Toonces - she's in love with him, he's tolerant of her.