So this semester started off amazingly. Up until about a month ago I thought I was going to have my first 4.0 semester within my upper division classes. I was busy, but not working so everything was okay. Then, my internship fell through. The guy I was interning for just sort of blew the whole thing off. Fine, okay...whatever. I get assigned a new guy. Call him, wait to hear back. Then he says to my instructor that he tried to call twice, never heard back from me, and is not interested in the internship anymore...Although I never had missed calls, or voice mail from him. So, I get an 'F' in the course...and have to find an internship for next semester in order to replace the failing grade. I feel like I got completely screwed because this was NOT my fault. But my instructor had told me to e-mail the guy and I didn't... therefore I wasn't being 'proactive' enough and I fail.
Fine, I'll live. I get over it...whatever.
Final project time comes around, (and pardon my french), but I busted my ass. For my metals class I had to construct a box, and for sculpture I designed, and had to build a piece out of deconstructed furniture that represented someone close to me.
For sculpture, I decided to create a bird cage, to represent my little sister who is going through big life changes right now...applying for college and making huge decisions that will affect her future. The bird cage represented the fact that she is still not an adult, so she is caged...and it is all eyes on her right now. She's on display. I featured a human heart as the 'bird' to represent how guarded she is with her emotions.
I really felt like it was a nice piece. I'm really happy with it. But my professor apparently hated it...or something. here's a picture: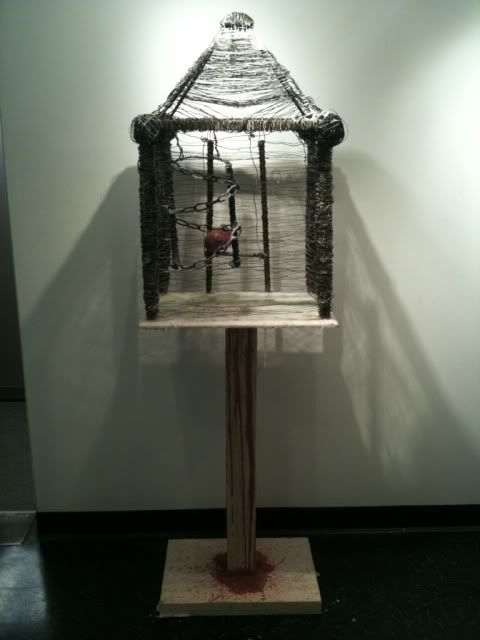 (I would have liked to have the wire be more solid, and the 'roof' didn't fit on correctly, but with my time constraints I did what I could. I was literally pouring wax onto it as I walked out the door to critique.)
She said that the wax I used to solidify the wire, and on the base of the cage didn't work. And she didn't understand why I used it because it didn't fit into the concept of my sister.
[Hugely frustrating because I genuinely do not think that EVERY SINGLE PART of any piece of art needs to fit in with the concept. I explained the wax by saying, "I needed the wire walls to have more weight to them, but without actually making them solid. Therefore I chose the wax."...I don't know why that's not good enough?] Anyway, so my piece gets ripped apart during our critique...and everyone else's is just like "oh okay, good." even if they were having the same 'concept' issues that I had.
Also I ended up with three absences and a tardy which dropped my grade one letter. Therefore, I get a a C in sculpture. (So much for that 4.0!)
In metals, I didn't even get my final project finished. My professor blames it on 'time management'. And continues, even after explaining myself, to insist that I just didn't manage my time properly.
[Let me let you in. I have spent countless nights, and countless hours in both the sculpture and metal studios... more hours than any other student in either class. I guess my instructors don't recognize that?]
Anyway, both professors in my final discussions, told me that I seemed 'absent' when I was in class, and don't seem to be 'working hard'. I have literally cried multiple times over this because I have never worked harder in my life! My metals teacher said to me, "I don't know what your previous academic training is, but you obviously weren't conditioned to have pieces done at the beginning of class." Which I am,
I just can't make something get finished if I can't get it finished
!!!!!
I have never been so connected to my artwork before. I really feel like sculpture and metals is my 'niche'... and I finally felt passionate again about my artwork. And now I feel like I just freaking suck.
I can't help thinking that all the stress of the dogs at home, paired with boyfriend being stressed about the dogs, combined with my
knowing
I have RA (just without a diagnosis) has apparently caused me to slack...unknowingly.
I'm sorry for the rant. I understand if no one reads it. I just really had to get everything that's going through my mind into words.