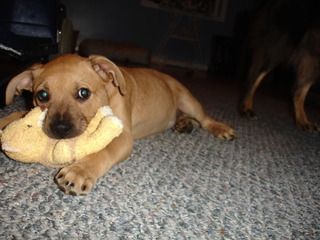 Score turned THREE years old today...my brown puppy is growing up!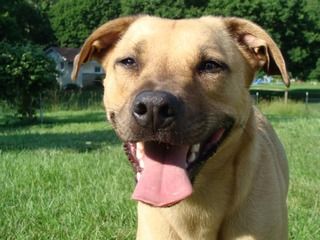 He was found on the streets of Wilmington, NC as an eight week old puppy...outside of a Doggy Daycare. About an hour before, a drug addict that lived in the neighborhood had wandered in asking if they'd seen a puppy around...and they chased him off, since they suspected that he'd stolen money from them the week before. So when they found a little brown puppy outside on the sidewalk, they scooped him up and found someone to foster him. Since the foster was a friend of mine, I saw pics of the little non-descript brown puppy online. I was looking for puppies for our Assistance Dog program at the time...so the little brown puppy was tested, and passed with flying colors. Within the week, he was transported to MD...and handed off to me. We named him "Score" in honor of his new life and to remember his start in life.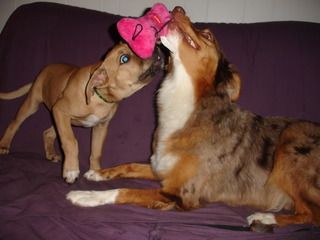 Since he was a little "bully" looking, he only stayed in the program for a few months before he was washed from the program. I puppy raised him, as we were worried about his looks (the training program is based in PG county, which has a breed ban)...and we didn't want a raiser getting too attached just to give him up. I don't like puppies, so I figured I was immune...besides, I'm a herding dog person...and I like color. I don't like plain brown dogs.
Except this one. This little brown puppy was just so cool. I already had four dogs, and was in the process of getting divorced and moving to a new place. But when it came time to send him back to NC to find a new home...I just couldn't let him go. So he stayed. And he flourished...and he got a big fancy name: Herart's Makin' Trax.
He kept up with his Assistance Dog skills...and he started flyball training. He was adored by his new siblings...and adored them right back.
He's now a VERY fast flyball dog (best time: 3.8 seconds), a wonderful Service Demo Dog and an all around good boy. He's known around the region in flyball...he's quite a popular guy...everyone saw him grow up and can't believe how fast he is. He's testing into a therapy dog program in a few weeks, and I think he'll excell at that too. He also helps raise all of the new Assistance Dog puppies!
Happy Birthday to my wonderful pupple!