Hey, everyone! I received an email from a friend who would like to help these dogs get into a foster or rescue. She and a group of friends are willing to help financially if these dogs can find a safe place to go because they cannot stay at the boarding facility forever. If you know of anyone who can help, please contact me directly via PM and I can give you more information.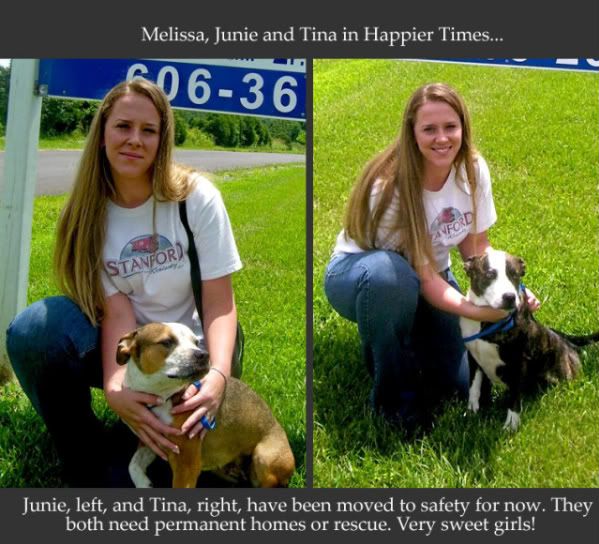 I know this may come as a surprise to many of you but Junie and Tina are still in boarding with absolutely no takers! We have exhausted the donated funds for their boarding and are truly at our wit's end on what to do next. PLEASE, PLEASE CROSSPOST TO ANYONE THAT MIGHT HAVE AN INTEREST IN THESE GIRLS. They are not good with small dogs or cats. They get along well with dogs their own size or larger. We have got to make some decisions soon if we can't find them homes or rescue. Ordinarily, we would never pull dogs from a shelter without firm commitment of rescue/adoption/foster but we made an exception because Melissa loved these dogs so dearly. Please help us not regret the decision we made!

PLEASE CROSSPOST....NO CRAIG'S LIST, FREECYCLE, ETC.

Save Melissa's Dogs!

Stanford KY dogs now moved to boarding in Madison OH

(2.5 hrs west of Buffalo along Lake Erie)

Please see flyer and photo of Melissa with Tina and Junie from the week before Jason became sick.

Shortly before Jason's illness and death, Melissa asked me to do a video of dogs available and dogs that had been saved through her recently formed rescue, Second Hand Pets. Two of the photos were of Junie and Tina, dogs that had a special place in her heart. A third dog whom she loved, Davis, was adopted by a wonderful friend of URKY in Vermont.

The dogs have been moved to safety thanks to the generosity of several donors. We will work hard to transport them to wherever they need to go. Both are up to date on shots and we were told they appear to be housebroken by the former boarding facility in Lincoln County.

WE STILL NEED TO FIND RESCUE OR PERMANENT HOMES FOR JUNIE AND TINA.

Melissa was told at Jason's funeral that she did not need to worry about Junie and Tina (who we now just call "the girls") or Davis. She was extremely relieved to know that they are at least temporarily safe.

In memory of Jason and for the sake of Missy, please help us save Tina and Junie.

We would love to see them stay together but realize that might not be possible under the circumstances.

Contact Hillary at

hillary_c@bellsouth.net

to help!

Here are bios on each of them:

Tina – Young – Female – Terrier Mix

Tina is a great little girl. She is the perfect size-only about 30 lbs. Not only is she gorgeous but she is also super sweet and loving. She is great with other dogs and walks great on a leash. If you have room, her best buddy Junie is looking for a home too. Tina is up to date on routine shots.

Junie – Young – Female -Australian Cattle Dog/Blue Heeler, Terrier [Mix]

The best word to describe Junie is WONDERFUL!!!! She is just the greatest little dog ever. She is great with other dogs. She weighs about 30 lbs-the perfect size for a couch buddy. She is super friendly, loves people, and loves to go on walks. If you have room, her best buddy Tina needs a home as well. Junie is up-to-date with routine shots.