The hubby was walking Mac at o-dark-thirty. I heard him come back into the house and then he called up the stairs: "Uh, Jen? You need to come down here. NOW."
There was blood all over the rug because Mac completely tore off one of his main nails. I cleaned him up, then cleaned up the rug, the stairs, his crate, etc.
Here's his crate bed before it got tossed into the laundry: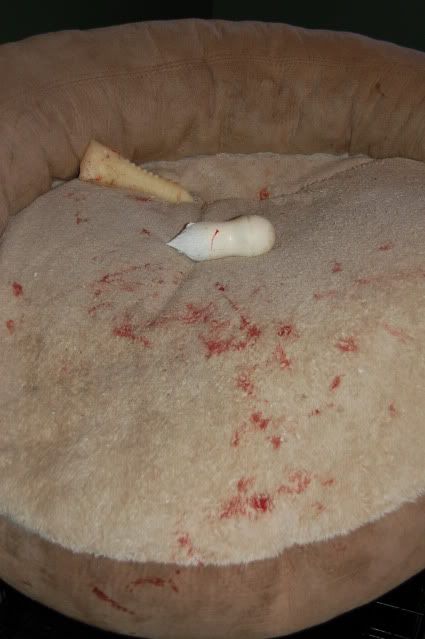 WARNING: VERY OUCHY PICS AHEAD!
His poor footie:
Of course, the big lunkhead was all bouncy and happy, putting bloody footprints everywhere, and it didn't even bother him until I tried to clean it up. Then it was DRAMA TIME! Here is the "woe is me" face: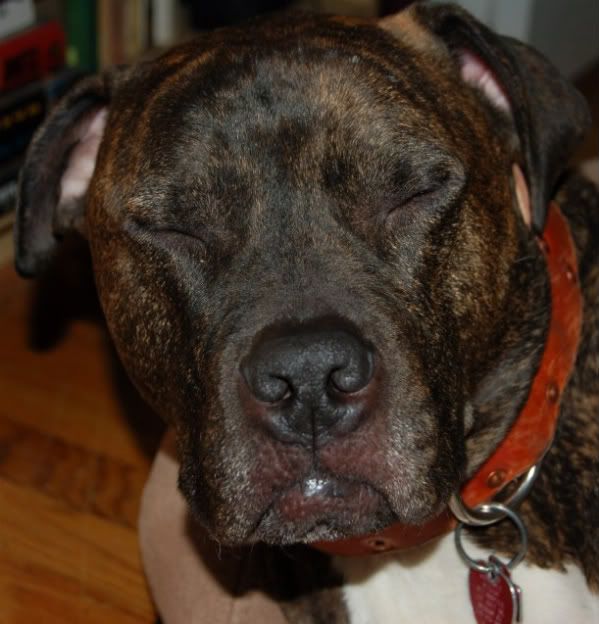 He won't even look at me now, LOL. He's on his other bed, sulking. Everytime I come into the room, he curls his foot under his body and turns his back to me.
Thankfully, he's already on antibiotics because of his skin. Our yard is mud soup right now (can't WAIT until it freezes over again!) and there's no way to keep his foot clean and dry outside. He doesn't like his feet covered
at all
, so he's just going to have to tough it out until it heals.