Ok..these five are some really NICE dogs. Their temperaments are wonderful. Sweet, loving, wanting very much to please. The pups are 9 months old, have some minor issues behaviorally as in..they know nada. Zip..zilch. Two of the males are pretty outgoing and have only minor signs of their previous life (not housebroken, will pee in their crates. don't even know their names) the female can be very shy at first in new environments and can startle at new things pretty easily. but recovers well and is VERY sweet. The 3rd male pup is really going to need some time to come around completely. Doorways frighten him. Sounds frighten him. But he is quickly coming around in his foster home. Again.VERY sweet but again..clueless. Thankfully they come from a pretty long line of solid temperaments otherwise chances are these guys would have been ruined. But they are quickly adapting to their new lives. The female has a pretty serious cse of demodex mange and all four lack any muscle definition (they are not skinny, however, they are mushy. Like a nice layer of fat directly over bone with prescious little muscle) the assumption is they spent a great deal of time crated. Or at least confined and unable to get appropriate excersize. Mom is also available and she is a VERY sweet, melt in your lap dog. Rumour has it she can run a little hot with other dogs. She can definately be dominant. But she knows how to behave in public since she has had a long career attending public functions around other dogs. Sooo...without further ado...here they are. Oh..Mom will be 6 in March.
Petie..one of the first two males mentioned. No kitties please. A female doggy companion wouldn't be bad. Obedience and weight pull could easily be in his future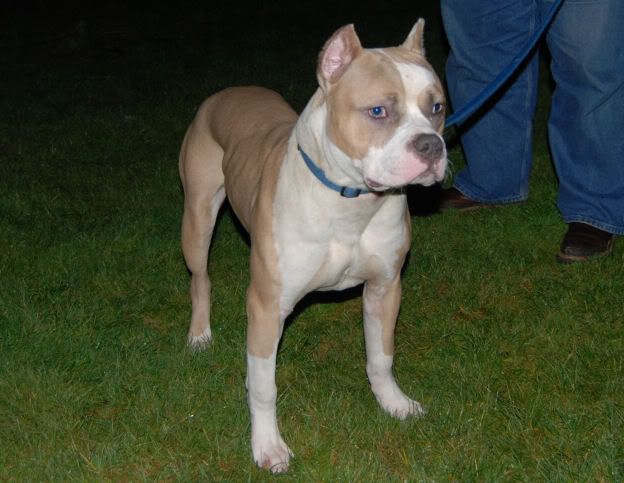 Scooby Doo previously known as Doofy. This guy is a mush. Total lap dog. I joked with his foster Mom that if he were picked up by animal control they would probably label him a saint bernard/boxer mix. But he is cute as hell.
Storm, jokingly referred to in my house as Frog..today dubbed Baby Huie (doesn't matter..he doesn't know his name) is incredibly sweet. Dog friendly, ignores the cats. Quickly becoming a spoiled brat. He is pretty much scared of everything but here we are on day 5 or 6? and he is becoming comfortable here.
Sassy is MUCH smaller than her brothers. Like literally half their size. Was being self treated for allergies by her previous owner when in fact, she had demodex. Again..very sweet..and cute as cute can be.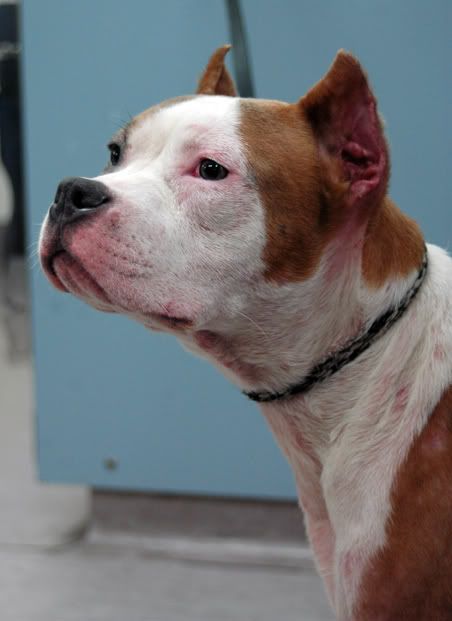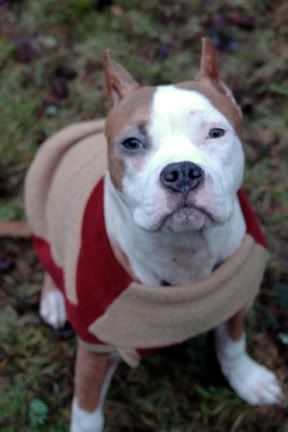 And last but certainly not least, Wishes. She truly is an incredibly sweet dog. Pretty much ready to be added to your family TODAY!