Hey there PBT members, I am from Malaysia and where I come from, people are undereducated about their dogs. Public thinks these dogs fights dogs and will soon maul humans too. Haha that's hilarious. Some of my friends thought that Barf diet will make these dogs fiercer. And there are many more myths around.
Okay so I have a dog named Kotzen/Dimebag. He has 2 names that he responses to. He is my first pit bull. I had a basset hound and a german pinscher before but they eventually were given to my cousins as that time I didn't know how to train/handle/take care of a dog. I was 3.
So, Dimebag was 7 months old when I got him from a breeder 300 miles away from my hometown. It was ridiculous. I didn't know my hometown has some pit bull kennels. But anyway, I kind of adopt him with 200 bucks adoption fees. Now he's been with me for over a month and he's beginning to enjoy his new home. The reason was, the breeder couldn't take care of this little boy that earlier on, he planned to keep. Here's the mother's picture.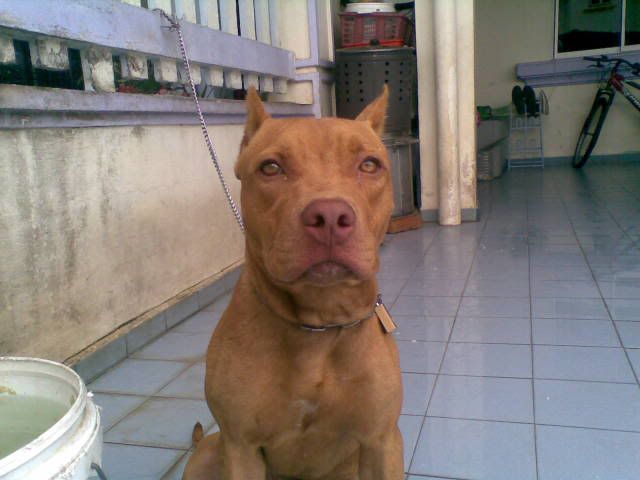 With the breeder was only the mother and I couldn't see the other parent. He rented the stud for about 400 bucks. Yes I know, she's chained the whole time. The poor little boy was chained too. I was so glad I brought him home.
Here's Little Dimebag.
And Mr. Dimebag in his usual tether. I put him there when I am not at home. He will literally destroy the house when left alone. He sleeps with me at night.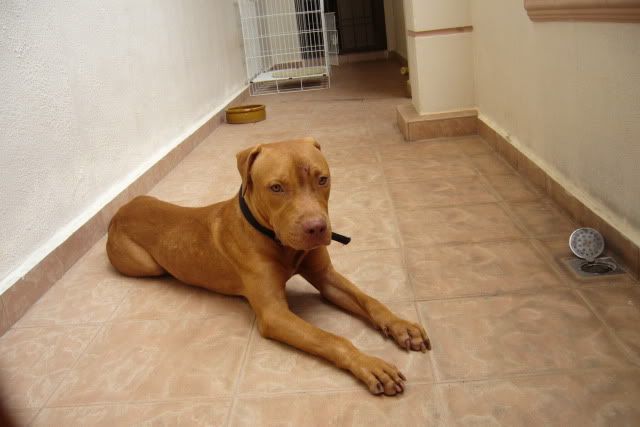 He has a little skin issue. Doctor scraped out a little of his skin and it's fine. Just a little weather or fungal issue.
Currently, he gets raw meat and bones about 1.2 lbs every other day. He's about 39 lbs only. He loves it and it does good for his jaw exercise and coat and generally his health.
Here's him waiting for his food.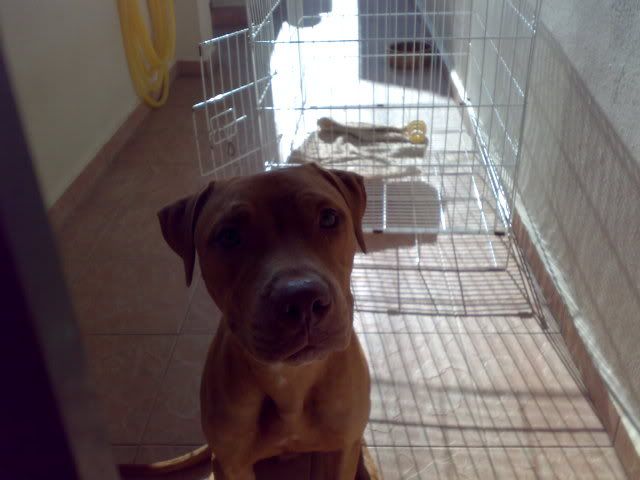 Chowing down his last piece of chicken ribs.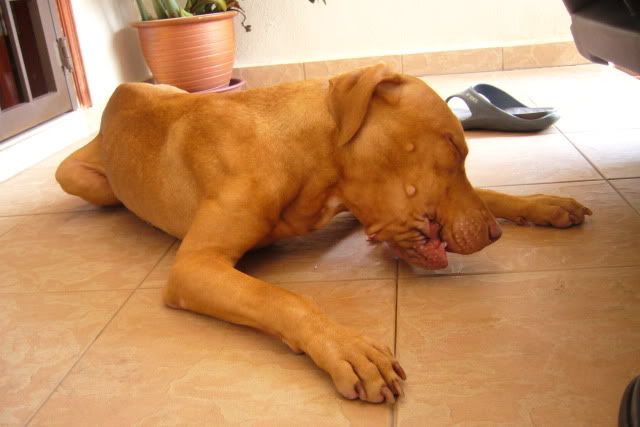 And a happy contented puppy.
Good bye.
Hope to learn more from you guys here.