In dog terms she has Methicillin Resistant Coagulase positive Staph.
My dog Sofie has MRSA. She is going to begin treatment with Amikacin tomorrow provided her kidney values are normal. She has to have an amikacin injection every day for 14 days, fluids every day for 14 days. We're doing another culture in 10 days. She has to have a UA/kidney value check twice a week to make sure she's doing okay.
Sofie is 12 going on 13, I have had her since she was 6mos old. She is nuts having wicked seperation anxiety but she's been an awesome dog. She taught me a lot and she's just been a great companion. She has been staying mostly with my parents but they neglected to tell me she's been sneezing for months and months and just how bad it has been. I started hanging around home more and noticed it so we did a nasal flush and cleaned her teeth. Gave her a round of Zeniquin [antibiotic] and nothing happened. Did another flush and sent in the culture. I am so glad it isn't a tumor but I hope the treatment doesn't mess her up.
Mostly I hope for some good board vibes! The amikacin can be hard on the kidneys, cause vestibular issues, and can cause hearing loss among other things. My family and I are going to get our throats cultured to make sure we aren't carrying it or have it. Hopefully we'll be okay too!
This is an older picture but I like it, even with the demon eyes!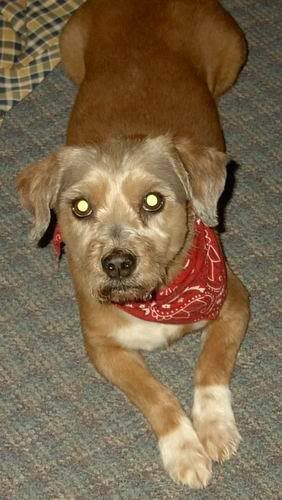 Her eyes always glow :p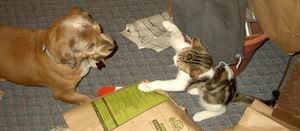 Sofie and Napolean when I first got him.