I hope no one minds that I'm starting this. I'm just so excited about Christmas in July!!!!! And I need some help for my matches. If you have dogs or cats entered in Christmas in July, please post a picture and some info about them here so your secret santa can get some ideas about what to buy.
Renee
Renee is a 4.5 year old German Shepherd mix. She is active and likes things that keep her busy, both physically and mentally. She will chase just about anything that can be thrown. She'll rip up stuffed toys, but has fun with them until they die. She also loves clicker training, so small, soft treats are great. And she likes toys that can be stuffed with food and nylabones. She does not like rawhide.
Emma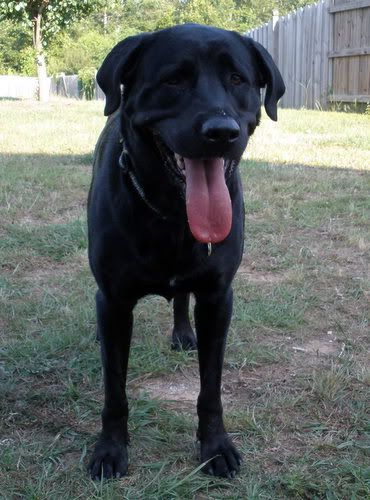 Emma is actually my roommate's dog. She is a 3 year old (I think) Lab/Mastiff mix. She really likes balls, especially ones that are a bit larger than a tennis ball. Lately she's taken a liking to those really cheap floppy frisbees you can buy at the dollar store. She also likes pretty much all treats. She likes stuffed toys, and is pretty gentle with them. She likes ones that "honk".
Shelter Dogs
My third ticket will be shared among the dogs at the shelter where I work. Stuffed toys are not a good idea because they'll get filthy dirty. Durable toys are good, as long as they are big enough not to get caught in the drains (large kong size things are good). I've also been working on clicker training with them, so small treats are great.
Shelter Cats
My fourth ticket will be shared among the cats at the shelter where I work. The kittens have enough room for toys especially ones that can be hung in the cages. The adults don't have a lot of room, but I've been doing some clicker training with them too, so small cat treats are good. They are not picky, so cheap treats are just fine.