Here is my foster dog, Virgil, he is available thru http://www.poundbuddies.petfinder.com
Let me tell you about this amazing death row inmate. He was found wandering Musekgon (BSL area) with two other dogs. Where he was locked into the "pit ward" with little chance of getting out.
His owner came in I.D.ed by name and left him along with the others there to die. (wow..what an idiot)

Virgil is one heck of a dog, he is all DOG. Strong, athletic, silly , goofy, cuddly . Virgil seems to be pretty good around other dogs that he knows. Dogs he doesnt know he does not appreciate them running up into his space or face. He seems much more focused on HUMANS HUMANS HUMANS.
He is the worlds worse guard dog, I can tell you that. When Woody my other foster is out with him he
gets excited and wiggly then usually retreats behind me . So due to the fact that Virgil really seems to want his own human and not a doggy friend.
I have dubbed him as a "only dog" in his adoptive home.
This brings on the challenge of finding a home with no other dogs. But I think its best for Virgil. And well, thats what rescue is all about, Matching dog to human.

He lives safely with kitties one even thinks she is his best friend and follows him all over the house. He is altered, microchipped, vaccinated, heartworm checked and on preventative.

He is a powerful dog in the yard and probably not the best dog for a new to the pit bull breed. In the house he is so good, graceful and never gets into trouble. If you love graceful strength -calm power along with a dog guarenteed to make you GIGGLE every day. Well he may just be the dog for you.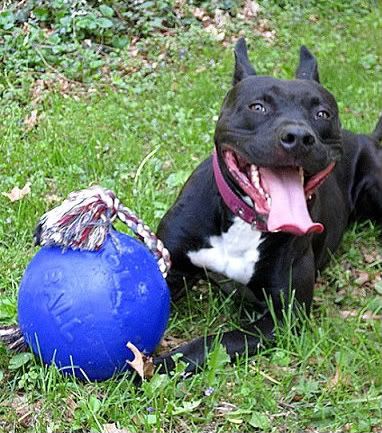 Smile Virgil!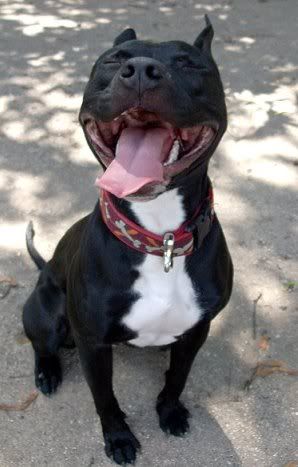 I mean who else has a dog with "butt cheeks"!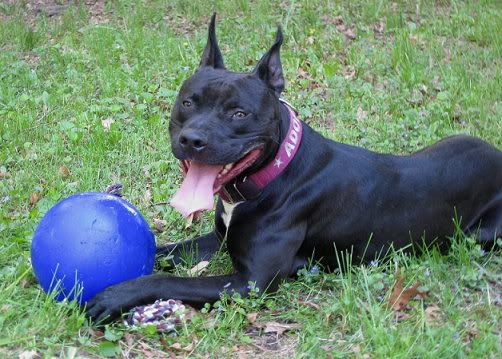 This is the video in my intro , but here it is again;
http://www.youtube.com/watch?v=3aRAhUT0DI4
And this video shows lil mr.ying/yang in action..whoohoo..man!
http://www.youtube.com/watch?v=A1Vn3pMyu60