Hi my name is Suzanne, I am 21 years old and I live in Oregon. I am a veterinary assistant soon to be licensed technician[hopefully!]. My friend Kristen [She has a pit bull named Toby] told me about this site. I just recently became the owner of a bully mix. I love dogs, my favorite breed is actually the Ibizan Hound however all of my pets are mixed breeds.
My oldest is a 12-year-old Lhasa/terrier mix named Sofie. I got her in the paper for free when she was 6mos old. Little did we know she was free because she's nuts! She has horrible seperation anxiety, she's chewed through kennels and doors. Sometimes she's okay, sometimes she's not. I love her anyway!: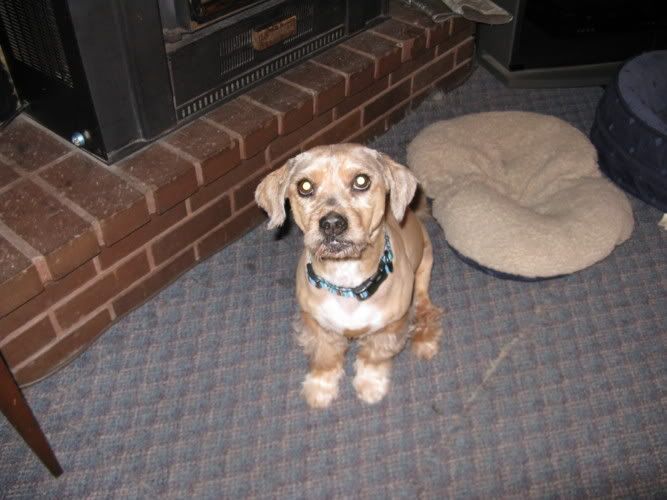 Next we have LiLo. A coworker of mine just HAD to get a dog. Unfortunatley the apartment she lived in wouldn't allow a dog over 20lbs, the one they bought was a 15lb rott mix, or so she appeared. LiLo is now 4 years old, she's just a mutt but she has a lot of characteristics of a German Shepherd other than size. She's an AWESOME dog, maybe the best I'll ever have, she's very smart her only hangup is that she is insecure and barks at people she doesn't know. She will try to make friends, and will eventually shut up but it's hard to explain to people you've never met before that the growling and barking isn't serious. [Heck when people tell me that about their dogs I'm like "SURE!" hehehe]
Lastly is my new boy Seth. I have no clue what he's mixed with. My best guess is that mom and dad were muts themselves and he just came out how he came out. He's from a rescue known for amputating legs just to make the animal more adoptable. He busted his elbow and walks with a limp but isn't in pain and everything is healed. From the moment he walked in the lobby i thought he was adorable. He's SO mellow and laid back, just a total goofus. He loves everyone. He's kind of come to my rescue because I recently lost one of the best cats ever, he died under anesthesia while giving blood to a dying cat. I will never get another cat as my remaining cat has become very affectionate and I could NEVER replace the boy i lost but I think Seth has come at a really good time for me to help me move on. He's definitley got some kind of bully breed in him... I've had guesses such as boxer mix, pit mix, mastiff mix, dane mix. He's 9mos and only about 45lbs.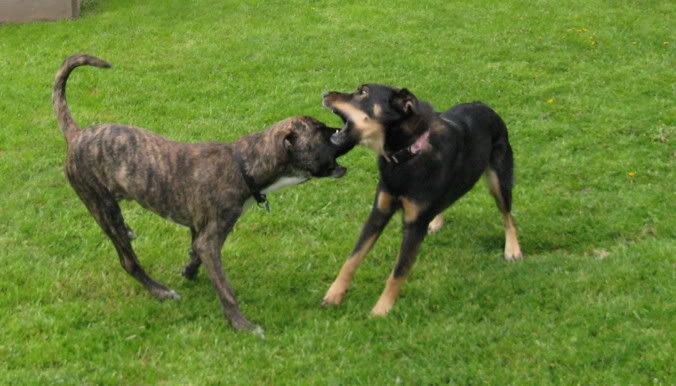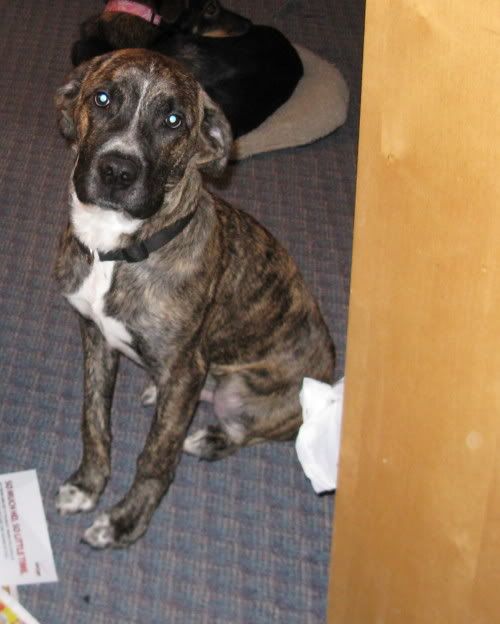 ANYWAY my huge novels continues!
I've loved Pit Bulls since forever. I love their dinner plate heads. I love their personalities. 9 out of 10 pits that come into the clinic are NICE dogs where I can easily say 9 out of 10 German Shepherds are bad. Any Pit Bulls that come into the clinic that are considered "bad dogs" are usually the dogs who only come in once a year for rabies, basically the dogs you know are more of a status symbol than a pet. Anywho I thought I'd check this board out in case I hit any road blocks with my boy since you all know the breed on a more personal level than I do!