I hate taking pictures of rooms. In reality, I have cathedral ceilings, and the apartment is big and airy and simply wonderful. I didnt post pictures of the bedroom because it is super boring right now.
I'll post more once I have more furniture and I have actually decorated the place.
The pictures get bigger if you click on them.
My living room
More living room. Don't you live my coffee table made from a wood floor? The cacti on top are pretty sweet, too!
Kitchen and stuff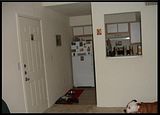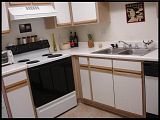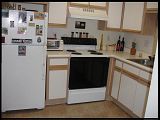 I love my teal leather couch!
This is my balcony/beginning of a vegetable garden. It's going to be marvelous once everything starts growing. I also want to put a chair and other decorations out there. It's gonna be sweeeet!
How do you take a picture of a small bathroom? Get in the tub of course!