and lovin is my game..AND I am ridiculously cute. I am almost ten months old. And possibly deaf though you wouldnt know it. I am UKC registered and my ears are cropped and I thought I had the world at my feet. but..I ended up living in a crate full of my own waste, had ouchie ears that no one took care of and was a pretty sad fellow. This is what I looked like a couple of weeks after a nice lady saved me.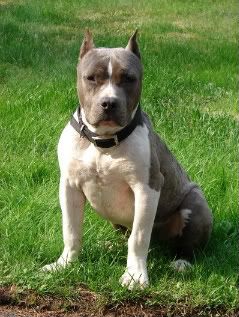 I am living in Washington which is a LONG way from where I came from..which was TX. But now the person who sold me up here doesn't want me back. So..the nice lady who has been taking care of me is trying to find me a good home.
I am neutered, vaccinated, and micrchipped. I now my basic commands (hand signals) and am good in a crate. I am told I don't have normal deaf dog problems like screaming and stuff. im good with other dogs right now but havent met kitties. I might like them too. My foster Mom says Violet wants to find out.
Anyways..id like a home who will love me. I will probably be good for weight pull when im 100%. I could do obedience too.
im a nice boy..are you looking for someone like me? contact Violet at
DRAWashington@hotmail.com