This is Simba. He is a 4 year old Miniature Schnauzer, but will be turning 5 years on November 18th. I got him when I was 9 years old from our family friend's litter. I picked him at 2 days old. Back then he was a sandytan color with a black stripe down his wee back. We then officially got him at 6 weeks old. He is quite good at Agility, and loves to go for rides, walks, and runs in the yard.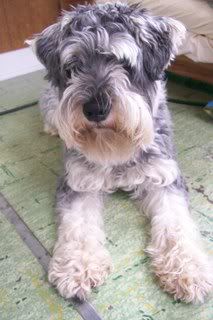 Here is a video of him learning to Skateboard-
http://s92.photobucket.com/albums/l26/A ... mba261.flv
I will be having a new addition arriving this Spring/Summer too! I would love to adopt a Dog (Pittie mostly), but mom right now is saying a small breed, so I may not adopt since we rarely get smal breeds in the shelter, and if we do it is like they are gone in 5 minutes, so I guess it will be a surprise.