My Hubby and I celebrated our 22nd anniversary a couple weeks ago. And, I use the term celebrated very loosely. We were at the wedding of a friends daughter and about halfway through I leaned over and said "happy anniversary". He was like "it's our anniversary", me "yep", him "back atcha then", and we both proceeded to giggle - we'd BOTH forgotten our anniversary. Of course, giggling during a wedding ceremony while the priest is praying - not a good thing. But you know how it is, once you start laughing in church, you can't stop.
Outside the church after the wedding.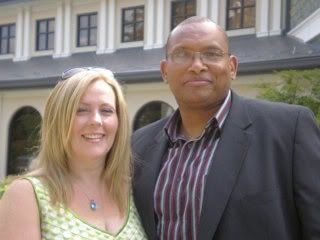 Thanks Christine for fixing this picture for me! This is from the reception, and really, he wasn't toasted just bad timing on the eye thing.