Dylan's WP Harness finally came today!
He was soooo excited!! He was jumping up and down and barking. I don't know if he recognized the harness from the show we went to and he demo-ed or if he's just figured out that if I get a package that there is a good chance it's for him.
He was very comfortable in the harness from the get go. I think using a regular walking harness on our walks once a day and allowing him to pull really helped him get used to the feel of it. He also sits politely when I put it on him and take it off -- something I
WISH
I could get him to do with his prong.
Dylan pulled an additional 10 pounds behind him for about a mile (I wanted to start light)....our walk was cut short by lightning. Ruined my dumbbells though.....I'm gonna have to ghetto-rig some sort of cart for him to pull from now on. Suggestions and building instructions are welcomed.
He's definitely already attaching meaning to the command "work". And he's
VERY
enthusiastic. He wanted so bad to break out into an open run with the weight on. It took all I had not to let him.
I'm just really really pleased that he's obviously enjoying this so much.
Any and all comments/advice/etc are welcomed.
Now on to the pictures....
happy puppy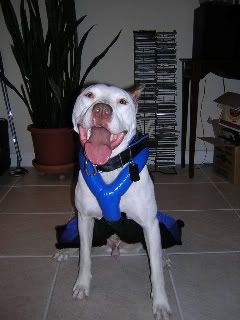 "work" means walk