Introducing:
Tippie. Tippie is a male, 2 lbs 7 oz, sporting a stylish white collar. He is named Tippie b/c of the white tips on toes.
Smile? How about I just stick out my tongue for you? (Note the tip of his back paw)
Okay, fine. I'm just so bored with this. Where is my agent?
Shortie. Shortie is a male, 2 lbs 6 oz, sporting a very handsome green collar. His name came about b/c of his short little legs.
Ewwww...I don't want any dewormer.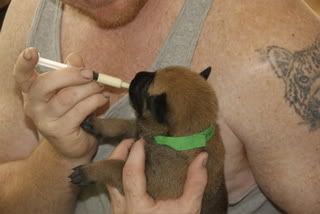 I am not short. I refuse to look at the camera.
Bandit. Bandit is a female, 1 lb 14 oz, sporting a pretty red collar. Her name came about b/c of her black mask (I had to remind Greg that the puppies are Belgian Malinois, they ALL have black masks)! Bandit is the runt of the litter...
I don't understand why you had to put that yellow stuff in my mouth. It wasn't very nice of you!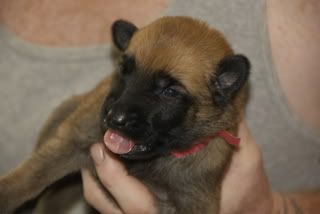 You are keeping me from my beauty sleep. A girl really does need her beauty sleep, you know.
Starr. Starr is a female, 2 lbs 8 oz, sporting the pretty in pink collar. She got her name b/c of the big white patch on her chest shaped like a star.
Sitting pretty for the camera.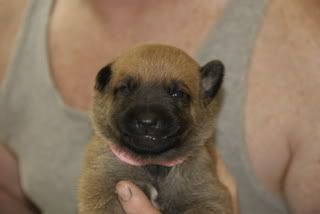 Yes, I have one ear that flops, and one that stands up. Do you have a problem with that?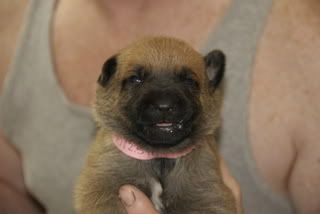 Finally, Biggie. Biggie is a male, weighing in at 2 lbs 9 oz, he is wearing a blue collar. He is named Biggie b/c he is the largest one of the bunch.
I'm so big I don't even want to stay awake.
Fine, I'll just blow raspberries at you.