Okay, I know this has been long awaited. Sorry it's taken so long to do this! Running a trial is exhausting, then going through 2000+ pics is even worse!
So, we had a great weekend. All levels were represented both days. Despite the 100 degree weather on Saturday, many people braved the heat to strut their stuff on the trial field. We had 8 PDC entries for Saturday, and a great mix of dogs: bandog, presa, cane corso, APBT, malinois, GSD, and Alapaha (yes, Alyssa). Four of those entries had a good showing in obedience, and moved on to protection. Unfortunately, for one reason or another, none of these dogs passed protection.
In the Level 1's, we had 3 competitors: 1 GSD, 1 Malinois, and 1 Rott. The GSD and Mal both passed obedience to earn the right to go on to Protection. The Rott, unfortunately, defecated on the field which resulted in "dismissal." The Malinois passed protection therefore earning his TC (obedience title) and PSA Level 1 Title. The GSD did not pass protection, and therefore, only earned his TC.
In the Level 2's, we had 4 competitors, all Malinois. In the Level 2's and 3's, you always have the right to go on to protection regardless of whether you pass obedience (because you can earn a trophy even if you don't pass; in the 1's you must pass to be eligible for a trophy). Out of the 4 competitors in the 2's, 3 of them went on. There were no passing scores.
In the Level 3's, there were two competitors. Myself and Cy, included. The other team was Don and Paris. A great team to go against! Unfortunately, Paris bit in obedience (resulting in a 0), but they still went on to protection.
So, with Cy. We had a good showing in obedience. Cy listened to his commands, for the most part, and looked good out there. We didn't pass obedience, however, because of a mistake I made (he jumped on my lap during a food refusal, and when I pushed him off, he ate the food). There was lots of water (getting pelted with water balloons and water guns, etc)...It was the first time I had showed Cy in the 3's...but, despite the heavy agitation (which is allowed in this level), we did good (oh, and in the last pic, I'm holding handcuffs, that was his retrieval object):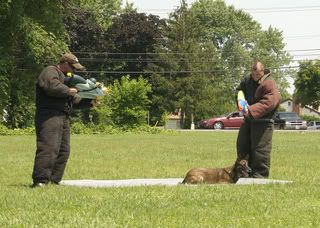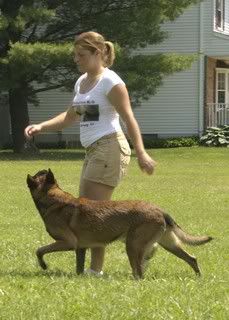 So, onto protection. Protection in the level 3's consists of 4 surprise scenarios. They are all difficult, and usually require some form of thought on the part of the handler. Unfortunately, I let him bite on the 1st scenario (actually, I DOVE on him to keep him from biting, and he still bit), then anticipated a call off on the 3rd scenario. One scenario called for 2 guys in hiding. I had to send my dog around the hiding spot, where one decoy threw balls on him, the other "shot" at him with a semi-automatic blank gun. As I expected, Cy took the leg (he goes for the leg if his normal upper body target is taken away).: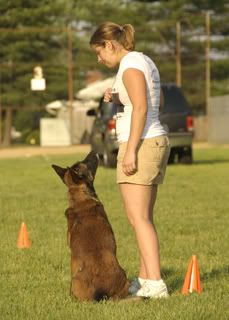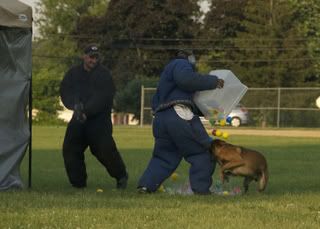 Despite our screw-ups, Cy and I went on to beat Don and Paris to take home 1st Place in the Level 3's: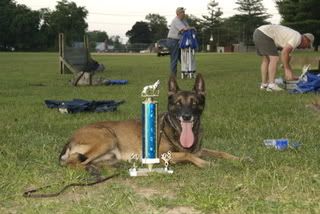 If you'd like to see the rest of the pics from Saturday...
Obedience:
http://www.metropolitank9.com/Images/20 ... /SatOb.htm
Protection:
http://www.metropolitank9.com/Images/20 ... SatPro.htm
*******************************************************************************************************
On to Sunday. On Sunday, there were way fewer people. Only 1 person (with an APBT) in the PDC. He did pass obedience, but sadly did not pass protection. There are few trials where no one throughout the WHOLE weekend passes the PDC.
There were 2 people in the Level 1's, a GSD, and the Rott from Saturday. Sadly, the Rott, while he didn't defecate, simply was unable to pass. The GSD, however, (who also has a Sch3 and IPO3), passed both obedience and protection to walk away with his Level 1 title. There was 1 person in the Level 2's (didn't pass), and the same 2 teams in the Level 3's. A much different outcome this time.
Both dogs in the Level 3's bit in obedience. Cy bit due to my mistake (I downed him too late). However, the judge let us complete the routine, and despite getting a 0 because of the bite, Cy looked MUCH better in his obedience (more attention, etc). Ironically, when we go there that day, the judge told me I had seen the obedience routine before. He informed me that it was the same routine he used at Nationals, when I showed TJ. However, I never got to do the routine, because TJ bit within 2 seconds off the start cone...but I did tell Greg that I wanted to try to get through the routine with Cy several days before! Funny!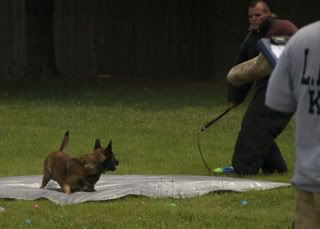 On to protection. The judge had a call off set up in the exact way that plagued me in the 2's with Cy. Well, I got him to go all the way downfield....which I was very happy about...only to call him off....We didn't have a good showing overall that day in protection...simply things that Cy didn't know...and I didn't know how to get him to do the stuff any other way. In the first scenario, a decoy dumped a bucket of water on Cy...he didn't look amused. The last scenario involved the "transport" of 3 "unruly" decoys...I like that he went between the legs of one of them: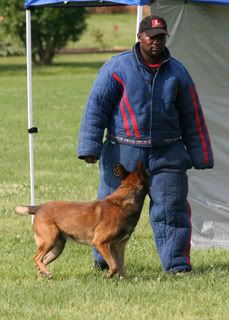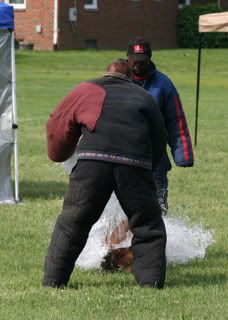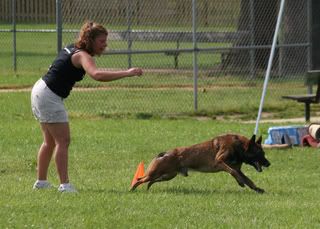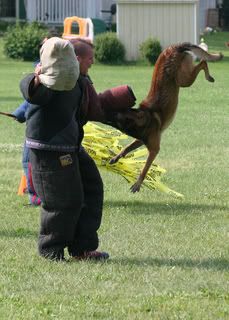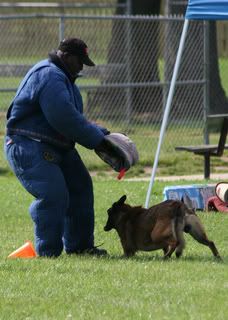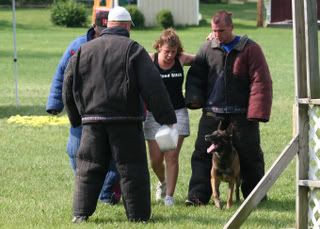 Then, the "I'm proud of you hug:"
Sadly, due to our bite in OB and poor showing in Protection, we came in 2nd on Sunday. Cy with trophies from both days:
If you'd like to see the rest of the pics from Sunday...
Obedience:
http://www.metropolitank9.com/Images/20 ... /SunOb.htm
Protection:
http://www.metropolitank9.com/Images/20 ... SunPro.htm