Okay, so in the Level 2 Protection, your dog is again naked. There are 3 set scenarios, then 1 surprise that comes at the end of the other 3.
The first scenario is a 2 man attack. In this scenario, there are 2 decoys downfield about 30 feet from the handler and dog. They start running towards you, and your dog bites 1 of the decoys (doesn't matter which one). The one he doesn't bite comes back to you, and "attacks" you. You are supposed to call the dog off the first bite to defend you. After the dog gets worked, you tell it to out and guard (watch), you walk up, then transport the decoy (and dog) to the judge, then away from the judge, where the first decoy your dog bit starts to run away. You have to send your dog on that decoy that is fleeing: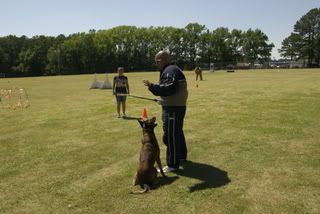 The second set scenario is the call-off...which Cy anticipated (he never made it down field).
The third scenario is called a "Fended-off Attack" where the decoy uses a distraction to try to keep your dog from getting into the grip. On Saturday is was a "curtain of bottles:"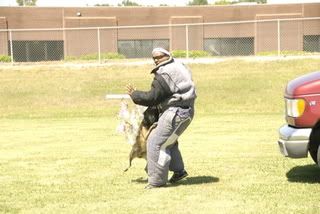 The surprise scenario was very cool. You were a K9 officer, with your dog (in this scenario, we had to put the dog on leash/collar), in a car. You were at a routine traffic stop. The car in front of you has 2 decoys. Both decoys get out. The decoy on the driver's side fires a gun and takes off, the decoy on the passenger side just takes off (they take off in opposite directions). You had to send your dog on the decoy with the gun. The decoy was "taken out" by the dog (the decoy fell flat on the ground when you got to him, hence the leash and collar to keep the decoy safe), and you had to get your dog off the decoy. At that point, you had to send your dog on the other decoy (the one that was on the passenger side), after the decoy worked the dog, you did an out and guard, then a remote transport back to you.
Decoy with gun: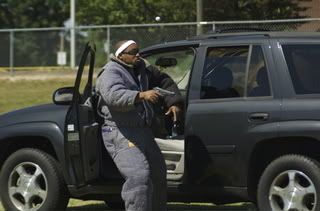 Decoy fleeing, getting bit, then being taken out by the dog (and me getting him off the decoy who is on the ground):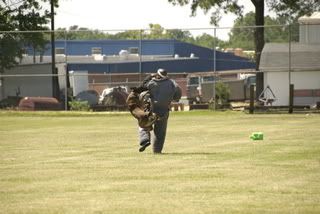 The bite on the other decoy, then remote transport: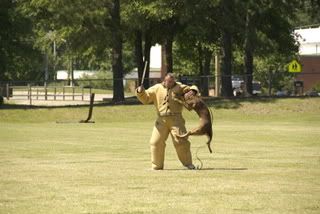 Once again, waiting for our critique: