So, in PSA, the level 2 obedience is a surprise until the day of. However, there are things you can always count on: retrieve, food refusal, jumps/tunnels/both, both sits and downs in motion, figure 8 around decoys, change of position from a distance and/or with your back turned, change of pace (fast, slow, normal)...and possibly a down/sit on recall (you call your dog, then down or sit them in the middle). And both the protection and obedience are done with your dog being naked (no collars).
Well, Saturday's routine started with 2 retrieves. However, the retrieval object (which could be anything) was a tennis ball. Right after the dog brought back the ball the first time, a decoy got out of a van parked about 10 feet from where you were with your dog. You had to throw the ball the 2nd time. Cy did both beautifully. In fact, it was a preview of what the rest of his routine was going to look like. Cy scored 88/100 which is a very good good score (in fact, it's "With Distinction").
So, first, we've got the retrieve, into the fast pace: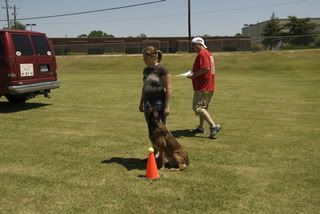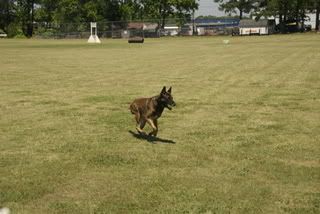 Then a motion exercise (leave your dog in a sit), change of positions, then a recall to heel with my back turned and running away: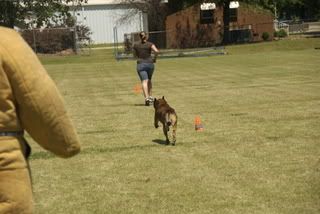 There was another leave in motion, then a recall, then a send through a tunnel, then over a jump: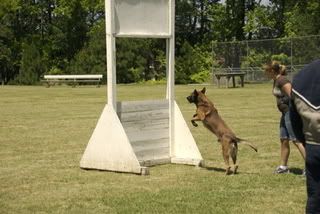 Figure 8 around the decoys, meet and greet (friendly) with a decoy, then a long recall: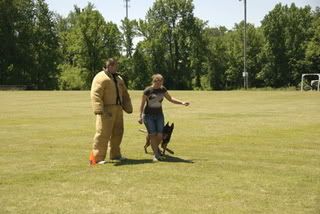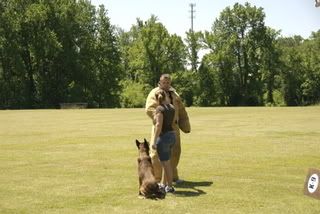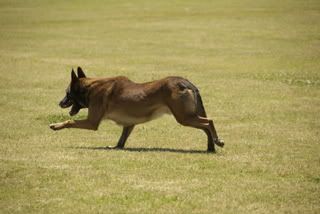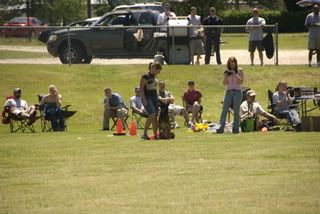 Finally, the critique:
Video to come!!!!