So, we had a beautiful day to trial in Sanford, NC on Saturday. Jerry Bradshaw and the rest of the Tarheel Canine crew had an awesome location (as always)...first up was the PDC's. There were 5 of us doing it. We went through the handler's meeting. I had pre-registered, and, as such, I was told that I could go last. However, I was feeling sick to my stomach (par for the course on trial days), so I said I'd go first.
The PDC obedience routine is basically the following. You come to the start cone with your dog's leash on the dead ring of a fursaver or choke chain, and you are asked if your dog has an AKC (stop in front then go to heel) finish or service (come directly to heel) finish. Rick Furrow (East Coast Asst Director for PSA) was judging and Jerry Bradshaw was stewarding. I told Jerry that Nisha would be doing the service finish. The first task is to leave your dog (in any position), and walk forward about 15 feet. You are told to halt, then with your back facing the dog, recall your dog to heel. Nisha came a little early, but settled into a nice heel position. Then you are to proceed forward. There was a right turn, then an about turn, then 2 gunfire during heeling, then a left turn (so I'm on my way back to the start cone). You have to figure 8 2 cones, then stop in the middle. You are told to down your dog, leave your dog, turn and face your dog, then return to your dog. Then you are told to resit your dog before picking up the leash. Finally, proceed forward during which time you are told to leave your dog. This is a motion exercise. You are to leave your dog in a down/sit/stand while you are still walking. Then you proceed to the start cone, told to face your dog, then recall your dog. Points are taken off for extra commands, handler help, slow recalls, slow motion exercises, etc. Nisha's routine wasn't that pretty...while she had a perfect attention heel by the car, she was now looking all around. She also got a little squirrely during the gunfire. Also, after the about turn, I noticed she was limping, it wasn't until later when another competitor's dog started limping at the same part of the routine that I realized she was being attacked by fire ants! Her finish was awful, and she finished in front rather than in a heel position.
At the start cone, and leaving her there: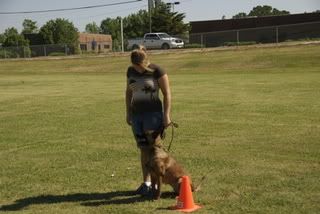 Heeling:
Recall at the end:
However, we passed, so we got to go on to bitework. There are three scenarios: a carjack, a handler attack from behind, and a courage test. She screwed up in the handler attack, though...so she didn't pass on Saturday.
Greg and I have agreed that the carjack is the one she excels in: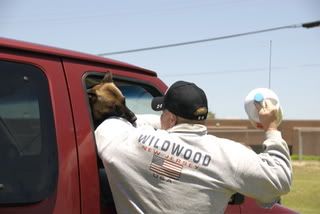 Funny thing about the carjack, though. Greg was the decoy for it (I said I didn't care since I knew she'd bite him). Well, he brings a lot of pressure, and never stops moving his arm after the initial presentation. Well, at the initial presentation, she only got a little bit, and when she went to counter, she lost her grip. He kept moving his arm, so she took the only thing she could get: his hand. Yes, she bit him for real. He yanked his hand out, and re-presented!
Handler attack: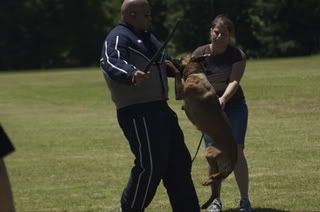 Courage test: