Please join me in welcoming a member, Dameon
.
Dameon was featured in the last NY Bulldoggers newsletter, and I am posting his feature as his intro.
First, be nice, and second, he's mine, all mine, paws off girlies.......
Service Dogs

On July 26th, 2003 Dameon was paralyzed from a motorcycle accident. Dameon did rehabilitation, he was finally released to go home. He is now paralyzed from his chest down and has limited use of his hands. After a few months Dameon decided he wanted a companion and found a pit bull breeder. Unfortunately the breeder Dameon found was a backyard breeder and the situation of the puppies wasn't the best. But, as many bully owners know, he felt he couldn't leave him in the plastic box, cold, wet, and covered in feces. So at seven weeks old he brought the little guy home and named him Rollo as tribute to a friend.

Dameon got Rollo freed of his worms and fleas and started obedience training right away. At three months old he was taken to a trainer for pointers and help. Then, he started Schutzhund training at 14 months for protection. The two became inseparable.

Dameon volunteers at a run away shelter and Rollo loves to go play with the kids. Dameon has also taken him to Vacation Bible School and the kids were all over him. Rollo loves children! Rollo also wears a saddle bag type vest to carry Dameon's wallet, keys, cell phone, etc. He's a fun loving dog but a great help for protection to his owner. He also has been trained to pick things up for Dameon who says, "It's 50/50 if he brings the item back for me." This is one dog who gives a great name to the bully image.
Here is my favorite picture of Dameon and Rollo....(I put it in all my videos....isn't he hot?!...)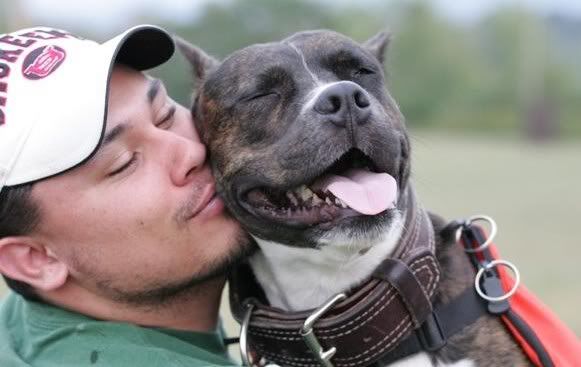 Now, let him in.....