Daddy! Wake up! Let's go! I wanna play!!!
....Well....it is awfully early...I could sleep in....
Wait! Did you say...SOCCER BALL?!
HAHA! Soccer! I'll kick your butt in soccer!
ok, seriously, guys! LOOK at the destruction this dog is causing to our apartment!!!!
....He swears it's not him destroying evrything - he says he's completely innocent...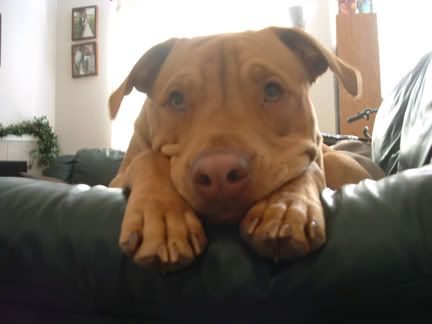 This dog eats everything he loves! He'd only had that soccer ball for 30-45 minutes, I turn around and look over the couch, and that's what I saw!I had to throw that rope out yesterday, too, because he'd taken the knot out and was pulling out ALL of the strings.
He's a goober.