Happy Adoption Day, Dexter!
Well, Dexter, you have been with us for one year now.
For those of you who weren't with us in the beginning, here's our story.
Dex came to us from rescue, he's about 3 to 4 years old.
Bringing him home was almost all good, until we were about 45 minutes away.. He started spinning and barking and crying. No amount of talking would console him, so my husband got into the back with him and held him, which seemed to work, until we got home. After a few days with this dog, we thought maybe we were in over our heads; should we return him?
We never had a dog with such behavioral problems; he barked, he cried, he screamed, he would spin, he wouldn't eat.
The only thing that worked, that calmed him, was his crate, so he spent a lot of time in his crate. We were at wit's end, we had no clue as to what to do for this dog. We bought another crate, so when we were watching tv, he would be in the living room with us.
We joined a few Yahoo groups, we got help from a few forum members, and we hired a professional trainer. I learned T-Touch. I learned that an anxiety wrap does not work on all dogs. I learned about natural oils. I learned how to treat demodex mange, and that chocolate ice cream is the best delivery system for ivormec, I learned chlomicalm didn't really work well for him and I wondered, does this dog not know how to wag his tail?
Finally, about four months ago, , he wags his tail…he wags his tail!!!! The first time it happened, we were like proud parents…..he wagged his tail! So, now, after a year of baby steps, we can still see him progress everyday. He is no longer crated, except when we are not home. He can eat his whole meal without a nervous breakdown. He can go outside by himself. He may still flinch when we reach to pet his head, but now, he wags his tail! He will actually greet us at the door every once in awhile and has started alarm barking when someone is at the door.
So, Dexter, my buddy, you have come a long way from the dog who nearly drove us to a nervous breakdown.
Happy Adoption Day, my friend! Welcome home, little buddy!
Dexter at the rest stop, on his way home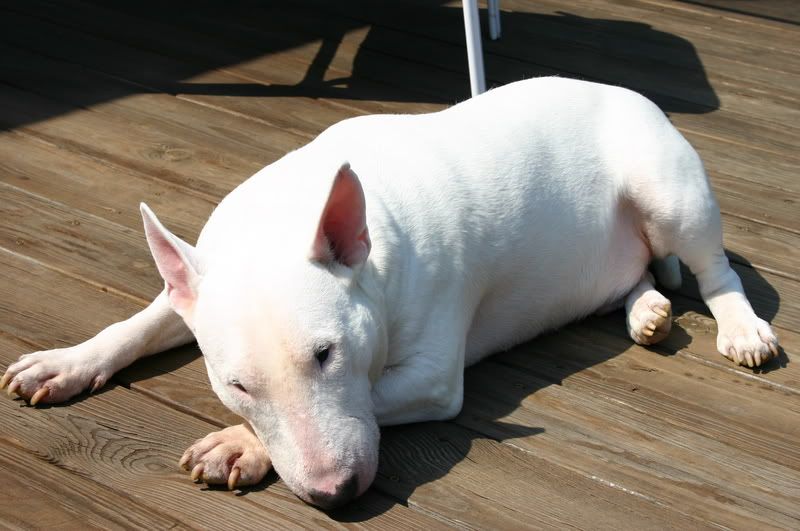 Dexter and his trainer, Jeff