I need some advice on Renee's feet. I was clipping her toenails today and found that two of her pads are ripped. And there are tiny burn spots on the edges of a couple of toe pads. This must have happened while she was at the kennel for a week. We just picked her up this morning. She is not limping, and didn't whine or seem uncomfortable when I was holding her foot. I did notice her licking one paw, and I think it's because there is a little flap of skin on the side that might be bothering her a bit. The thing is, the skin under the tears doesn't look raw or tender at all (see pictures below). It looks almost like my foot does when it gets really dry and I rip the top layer of dead skin off.
So, a couple of questions...does this look bad enough that I need to take her to the vet asap? It doesn't look bad to me, but I'm now freaking out.
She is supposed to run in a flyball tournament this weekend. Do I need to pull her and leave her home, or could I play it by ear and let her run as long as she doesn't start acting painful or limping and just keep a really close eye on her feet? She does not run fast, and has never had a problem with burning her pads while running.
If I do let her run, I want to do something to keep her from hurting her pads any more. Would wrapping them with vet wrap for each race be a reasonable, cheap solution?
On one of the places, there's a flap around the tear that seems to just be hanging there. Should I trim that off, or just leave it alone?
Thank you for any advice. As I said, I am freaking out. Today has been a very stressful day and this discovery has not helped any.
Here's the pictures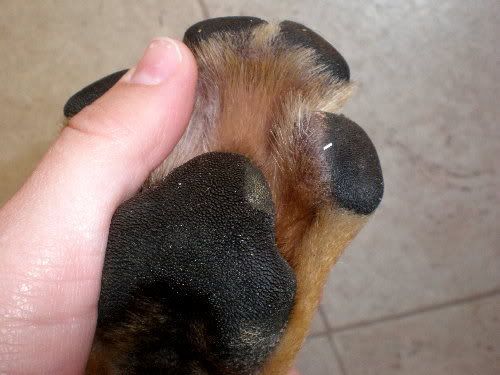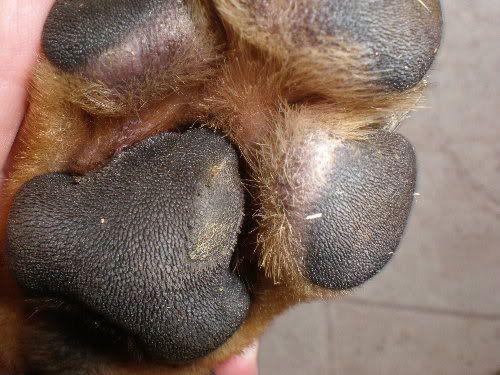 This is the one with the little flap of skin, it's on the right side of the torn part