Hey all! It's been just a little over a year since Minnie was diagnosed with Addison's Disease. I've learned a lot this year and thought I'd write it all down!
Minnie had what's called an "Addisonian crash' when she was diagnosed. She had been a bit lethargic, vomiting, diarrhea...just 'not herself'. Those of us really in tune with our dogs know what I mean. Of course I was worried about a foreign body (she has a history of dietary indiscretion, ie the 'mummified rat incident'). Ironically I was also just getting ready to go out of town. I took her to the vet and she didn't have a temp, wasn't tender in her belly and the vet couldn't feel anything in there. We decided to wait for 24 hours or so, then if she still wasn't better do an xray and discuss a barium series and lab work. We went home with some Metronidazole and we were putting her on a bland diet.
I left the next day for the BadRap conference. She seemed a little better and hubby promised to keep me updated. She wasn't better on Saturday so I made hubs call the vet. He had Chris take her temp and asked if there was a fever, hubs said no. (The mistake here is that the vet didn't ask what the actual body temp was and hubs didn't know that it's supposed to be higher than a persons). So he sat up with her all night but by Sunday morning she was worse and I ordered hubs to take her straight to the emergency vet.
I *knew* there was something seriously wrong with her and getting frustrated with not being there to take care of her myself. By the time she got in to see the vet her body temp was 97 and she was almost comatose. I had them do labwork, xrays, the works. I also tell them that money is not an issue and I want them to treat her like she was their own dog. Nothing. There was some weird stuff on her labs and they're starting to talk about poisoning. I was seriously freaking out, packed up all my stuff and started the long drive back to Seattle from Berkeley. Thank dog I had Joxer with me to keep me company:
The vet called me while I was on my way home to tell me she thought she had a diagnosis. Addison's Disease. My cell phone connection was super crappy but I got the idea that they had one lab test they could do and could have a diagnosis by the time I got back to Seattle. I drove straight through and got back about 9am Sunday morning. I called the vet and arranged to visit little Min-Min. She looked awful. Just awful. She'd lost 8 pounds (which is a lot when you only weigh 38lbs to begin with!) She had nasty poop all over her behind and you could tell she felt like shite. She seemed 'pale' which is really weird, but her fur looked pale. I keep the visit short and the Dr. came in and confirmed a diagnosis of Addison's.
It turns out the emergency vet that was on duty on Saturday night happens to specialize in Addison's dogs so she recognized it right away and actually started Minnie on the meds for it even before the diagnosis, thank god. She told me I could pick Minnie up the next day and we make a discharge appointment.
This is what she looked like when I brought her home: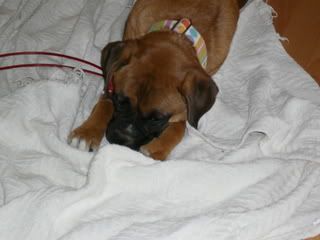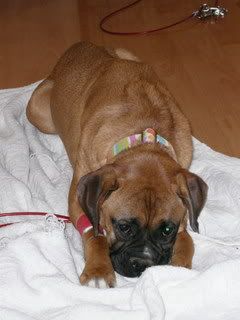 She immediately got a bath and got tucked into bed. She was on 10mg of prednisone a day and was being supplemented with Percorten-V. In the next six months she got better! She gradually lost all of her fur. And I mean
all
. She looked like a little pinkie Boxer. I was able to decrease her prednisone to a maintenance dosage of 2.5mg a day and she was getting a DOCP (Percorten-V) every 24-26 days. Her fur finally grew back in and she looked good....like her old, princess self.
Addison's is weird.....it can very nebulous symptoms. Minnie had a bit of hair loss months before her crash. It wasn't very noticeable so I kept an eye on it. She'd had a few bouts of diarrhea and vomiting in the last four months before her crash but again, she gets into things and they had resolved on their own. Looking back, I now know those were all early symptoms. From minor hair loss to coma....super!
Every dog is different, but I can always tell when Minnie is due for her shot. She will start acting spooky, will sometimes hide from the hubs (but never from me), will start peeing on the floor and if she's super stressed she'll poop on the floor. Stress can make Addison's worse so I will generally up her prednisone when I know there's going to be something stressful for her (if I go out of town or if she's boarded). She gets lab work to check her levels every six months, I do her shots at home and the vet says she looks great! I tend to keep her just a couple of pounds over weight so she has a cushion when/if an episode happens. We haven't had a crash since her initial diagnosis but she just in the last month or so lost a lot of fur again.
Pretty Girl!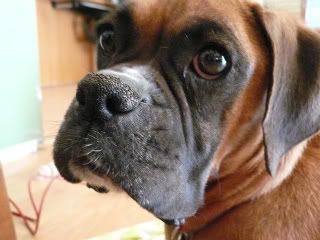 Funny Face: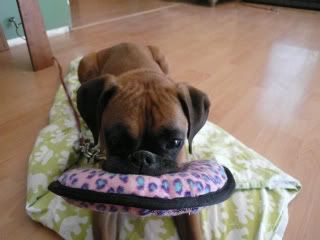 You can read more about Addison's here:
http://www.vetinfo.com/dencyclopedia/deaddisons.html