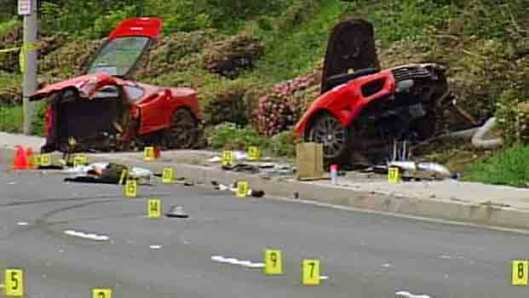 http://www.pe.com/localnews/inland/stor ... a06e5.html
Grand Terrace entrepreneur Charles "Mask" Lewis Jr. died in the wreck of a $300,000 Ferrari that hit a light pole in Orange County, company spokesman Erit Yellen confirmed this morning.

"It is with heavy hearts and great sadness that we must regretfully confirm the passing of our beloved friend, brother and co-founder Charles "Mask" Lewis following a car accident that occurred last night," says a company statement on TapouT.com.

"We are currently in the process of setting up a memorial service in his honor and will release more details as they become available."

TapouT is a mixed martial arts clothing and accessory brand that grew into an empire with multi-million sales.

The $300,000 Ferrari collided with a Porsche, crashed and broke in half on an Orange County roadway today, killing Lewis and injuring a woman, police said. The driver of the Porsche was later arrested.

The two cars were speeding north on Jamboree Road the crash occurred shortly before 1 a.m., Lt. Craig Fox said.

A patrol officer saw the red 2004 Ferrari Modena and a white 1977 Porsche coupe swerve out of control, Craig said.

The Ferrari hit a curb, then knocked over a light pole and broke in half, Fox said.

Lewis died in the crash.

"We don't know if he was the driver," Fox said.

A woman was thrown from the car and was hospitalized for a broken arm and other injuries, Fox said. There was no immediate word on her condition.

The Porsche was later spotted on another street and a couple who were seen walking away from it were arrested, Fox said.

Jeffrey David Kirby, 51, of Costa Mesa, was booked for investigation of alcohol-related gross vehicular manslaughter and remained jailed on $2 million bail, Fox said.

He could not immediately be reached for comment because his home number was unlisted and it was not immediately clear whether he was represented by an attorney.

The woman with him was arrested for investigation of public intoxication and released, Fox said. She will not be charged, he said.