This will be a bit of a novel, but bare with me, it is pit bull related :p
When I first got my horse I moved to a barn 4 miles away from my house. The barn had 18 stalls but only 6-7 of them were ever filled at a time. The people who owned the barn bought cheap grass hay, they never installed a hot water heater, they didn't finish the arena, pretty much they couldn't keep up with customer demand and never followed through. They lost the barn a year after I was boarding there because they couldn't afford to pay their mortgage. Mind you the woman who runs the place is the kind of person who is never at fault, it's always someone screwing her out of money, or someone bad mouthing her. She is always the victim and she will tell you all about it if you'll listen. They sold the barn but live literally right next door with their own barn. Pretty much when they owned the whole property there were two big barns, a barn for miniature horses and the "new" barn which I boarded at. So they sold the barn but essentially live on the same lot, right next door.
It's been 2-3 years since the place has been sold. I board next door now but I live inside of the barn. They built an apartment to have a trainer on the property but the new barn owner rents it out. I have been living there since October of '08. I have three dogs and a cat. My dogs are ALWAYS with me. They are never unattended. They are only allowed to go so far away from me. If there are people around I either leash them, or keep close tabs on them.
There are some people living on the property in a big fancy live-in horse trailer. They are only here for a few months. Their dogs were and still are a bit out of control. They have a lhasa who is leashed always [due to the fact he doesn't come when called.] They have an Australian shepherd whose recall sucks and she is dog aggressive, mostly typical herding behavior but she can be a nasty. I guess the dog has barked at the woman next door before and what not but she's never gone onto their property. Well the gal next door pulls the owner of my barn and apartment aside and is all:
Her: "You know that girl that lives in the apartment?"
Barn Owner: "Suzanne."
Her: "Yeah! Well the other night she came home and you know, she has a pitbull and he came up and barked at me and I felt threatened!"
Barn Owner: "Did you say something?"
Her: "Well no.. but he's a pit bull and I felt threatened!"
Barn Owner: *eye roll*
Her: "I guess I'm going to have to start shooting dogs!"
Barn Owner: "You go ahead and shoot my dogs, I'll call the sheriff out and he can deal with it."
Her: *uber pissed off*
[You can only shoot dogs if they are attacking your livestock.]
This NEVER happened. Seth for one, is a mutt. But he is also a mutt who DOES NOT BARK. He has never barked at anyone! If anything it could be LiLo but this never happened! I do remember coming out of my truck one time, with my dogs and the Australian Shepherd flying over barking at me and then barking at the woman next door while she watered her horses but it was NOT my dog!
It just makes me angry because she's throwing in "Pit Bull" for shock value. No it can't be the Aussie, that isn't scary enough. We're going to threaten someone with the "P" word to make it sound more dramatic. Not to mention, why didn't she say to me while this supposedly occurred "I feel threatened! Can you control your dog?!" She is just nuts. I guess she had a foal that had a bite wound last year and blamed the attack on a dog that lived with the people who were in my apartment before. Granted there dog did wander over there on occasion, but it's unlikely the dog caused the wound.
I've never had to deal with anything really like this, owning a dog that people don't understand or fear. I've had another incident where someone picked up their small dog off of a walking path and hid behind a tree while Seth and I passed [talk about strange!] if I had been quick enough I would have said "Oh is your dog bad?" Seth didn't even notice either of them. My hope is she's just had a bad experience with large dogs, but my gut tells me it's probably because he's brindle and she assumed he was a Pit Bull.
I'm sorry this post is so long! I just wanted to vent, I couldn't believe how nuts this woman had become! She's always been crazy, but making up stuff and threatening to shoot dogs is just stupid.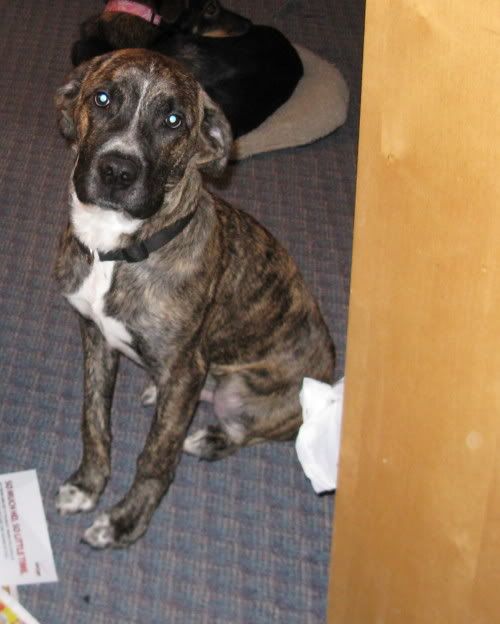 He's evil!