Finally... our last treatment was yesterday, and Beast was great!
Strutted into the vet office w/his backpack on, got on the scale, and actually
pulled
me into the exam room.
No shaking or growling what-so-ever, he was very matter-of-fact about plopping on his side and receiving his injection. While the vet techs did that Dr. Correa examined him at the same time... he grumbled once, but it wasn't a vicious warning - he just wanted to voice his objection of being touched in the nether-region again, I think.
When Mick was done we went to the waiting room and waited for the results of the blood work. I paid my bill and he actually sat right next to me, quietly, while the receptionist behind the counter did all the paperwork. She also handed me a bag of doggy biscuits which said:" Happiness is... the last day of treatment."
Beast THEN decided to take off his muzzle (well, he tried) to get at the hated vet wrap on his leg... I freed him and he ripped off the wrap w/a vengance, then proceeded to scarf down some of the treats.
The vet tech came out w/the paper for the blood work, and he actually gave a quick little tail wag... it made her laugh.
When we left the little sh!t lifted his leg - and PEED ON THE DOOR. I guess he finally showed THEM what he thought of the whole affair.
The plan now is to go for periodic blood work, which my regular vet will do, and check Micks lymph nodes on a daily basis (which I will do)... if/when he comes out of remission we will start him on oral meds, his health and demeanor permitting.
The whole bill for chemo therapy was $5876.95... and PBT/members raised and donated almost $1800.00 of that (including one VERY generous donation of $1000.00 from an extremely generous lady who insisted on staying anonymous).
I can't thank you guys enough - without all of your support I wouldn't have been able to get Beast treated, and the weekly encouragement and good thoughts meant/mean the world to me.
You guys are the reason that my heart dog is still with me, and I am SO, SO grateful to everyone for allowing me to have more time w/him.
Michelle... again, THANK YOU for making the forum available to us and for being so generous and kind in regards of donations and fundraising.
You

all

have a very special place in my heart.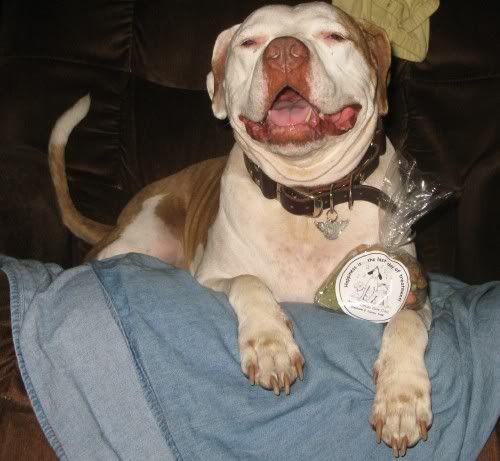 The happy patient...
God, I LOVE him SO much.