Finnegan is about seven months old now. He's recently begun The Big Moult and is growing in his adult feathers. It makes him *very* cranky and the new feathers growing in make him scratch like crazy -- he looks like that horror character Pin Head.
He gets lots of head-scratches from us, LOL. He'll lose the orange on his head (the females keep the orange) and will grow in orange feathers under his wings and on top of his shoulders.
He's learned to say "hello" fairly clearly and consistently, and is working on "good morning"and "good boy". He's mumbling other sounds that will probably become words but they aren't clear enough to identify yet. He can wolf-whistle, call the dogs with a whistle, and still barks like Shorty and Katy, LOL. Finn's also learned a REALLY annoying and loud series of sounds/whistles and we cannot place what it is. It's not any of the phones in the house, so maybe he picked it up from the telly or the radio.
Finn has earned the nickname "Woodchipper" because he can literally make saw dust out of any wood toys in a matter of minutes.
These pics were taken about a month ago:
Finn loves fruit, especially blueberries. His beak is stained purple on the end, LOL.
Cantaloupe is a big favourite, too.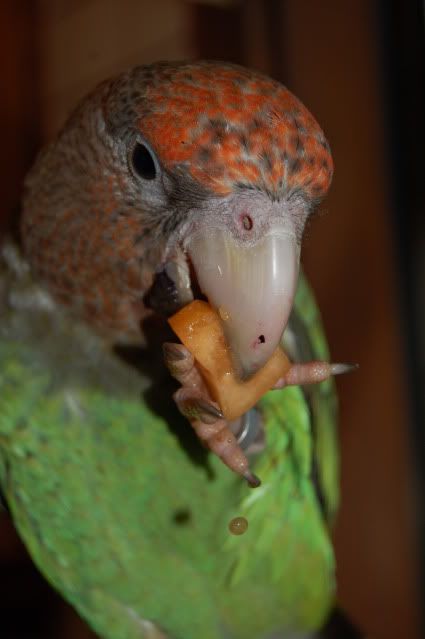 These pics were taken today: