....to the newest member of our family: NEMO!
Nemo is a 15-month old Belgian Malinois imported from Czech. He and his brother were imported to Jerry at the end of April. When they were imported, Jerry's broker/supplier from Czech told him he should keep one or both of the brothers for himself because their drive and nerve would make them perfect for sport work. However, Jerry already had a dog. Jerry also knew all I was going through with Cy's health issues (and knew that realistically he would have to retire next year), and I had Nisha who I was going to start showing next year, but may not be suited for the upper levels of PSA, and Kaiden, who would be a much better personal protection dog than sport dog. So, he told me about Nemo and Neils (his brother). A few weeks later, Greg and I were in North Carolina for a trial, and Jerry introduced us to the two dogs, and showed us their bitework. At 12 months old, Nemo cared about no pressure, had a ton of drive. There aren't a lot of dogs Greg would own, but he told me he would own Nemo.
Well, it took me a few weeks to make up my mind, and, in the meantime, Jerry's trainers started to train him for drug detection (so if I didn't get him he could easily be sold to a police department). I finally decided that I wanted Nemo, and Jerry told me they would complete the narcotics' detection training for only slightly more money than he was going to charge me for the dog. This was back in June. In all reality, I was purchasing this dog to replace Cy and Jue for breeding (Nemo's lines are excellent) and being trained in narcotics would only increase his value as a stud dog.
So, fast forward. At the beginning of September, one of Jerry's trainers, and one of my good friends, Jeff, delivered Nemo to me.
He definitely has more drive than what I'm used to...and has NO obedience...so, everything is a challenge...but he's VERY social, which helps. Even though he's 15 months old, he is still very much puppy, and likes to dunk his head in the water bucket and blow bubbles! He's social with the other dogs (even the puppies and the males)...although right now, he is only allowed to play with the females...
Anyway, here's Nemo:
Playing in the bucket of water: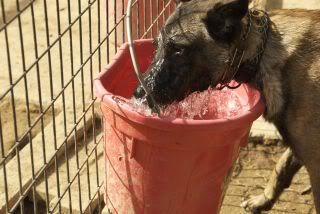 Playing with Nisha: