Henry seems to be fitting in well. Here he is, enjoying his millet treat: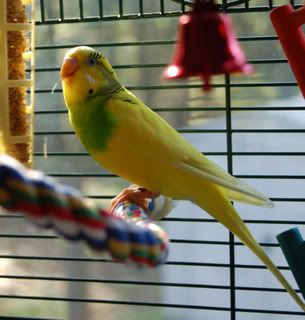 He nows takes millet out of my hand, but still hasn't ventured onto my fingers. Patience and baby steps, I guess.
He still screams at the dogs when they get silly and start wrestling around, but they ignore him now. That irritates Henry and makes him scream more, LOL.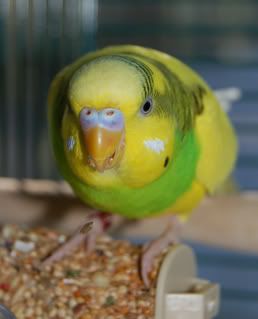 Henry has switched over to eating pellets instead of seed and loves celery and lettuce. He's not too fond of peanut butter and was rather peeved that I put some on his Nutri-berry treats.
He LOVES his toys and plays all day long. His new favorite is a bunch of paper curls -- he shreds them and tosses the pieces all over his cage. He likes to bob his head up and down, then ring his bells. He also races back and forth on his rope perches for minutes at a time.