http://www.ellaslead.com
The only lead you'll ever need.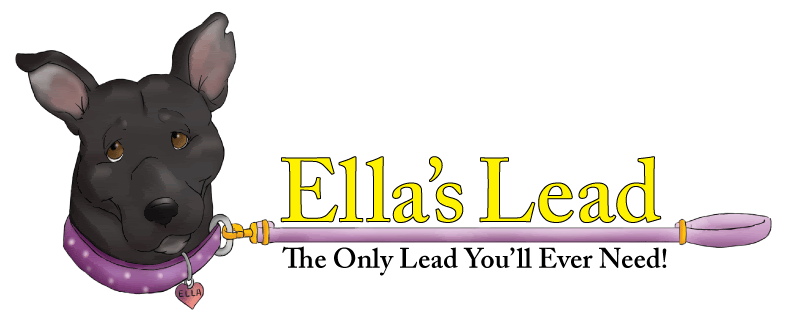 It's my new website and business.
I never had planned on selling the leads I made. I made one for Ella and then another because I wanted different lengths. My friend who fosters saw mine and wanted some for her dogs. Then I got the idea that since I cannot foster because Ella is so dog aggressive, that I could make these leashes and donate them to our local rescue organization. So I did. Then my trainer saw them and said we should sell them at our local doggy day afternoon (it's like a dog fair).
I got to looking for different rope companies to get different diameter ropes and found my rope supplier.
No, our rope will NOT rope burn your hands. It's high quality marine rope and mountain climbing rope. We use the best hardware we can find and we have now found an awesome hardware manufacturer. We got some samples in today of stainless steel bolt snaps and I have some samples coming of some nickel plated iron swivel eye latch snaps (what most call a "bull snap", though a bull snap is something entirely different). We'll be offering these as hardware upgrades on our site.
I've read horror stories of hardware breaking at the MOST inconvenient times (and we'd be SCREWED if Ella's hardware broke on her leash because she's a fuzzy mass murderer), so this is why we are seeking out (and believe to have found) the absolute best hardware available.
We are also going to be adding control leads (pictured under "coming soon" on our products site) and we have some other ideas rolling around in our heads. This has lead us to ordering O rings.
I will be adding, this weekend, our two-headed lead (not sure what we're going to call it). What it is: you want a twelve foot lead to allow your dog to roam or give him/her some room to walk ahead, but you also want to be able to have a 6 ft. lead (or a shorter lead). We bolt snap both ends, and put an o-ring on the rope so that if you want a looped handle on your lead when you are walking your dog on twelve foot lead, you can connect one bolt snap to the dog's collar then connect the other bolt snap to the O-ring to make a looped handle. Then if you want a 6 ft lead, you can connect both bolt snaps to the dog's collar creating a folded lead that you can hold onto. Does that make sense? hahahaha. You'll all know what I'm talking about when I add it to my website.
So, please, if you have a second, check us out!
Thanks!