Yes, you read it right, PSA is raffling off a BRAND NEW bite suit (custom made to the winner's measurements) designed by Signature K9 (
http://www.signaturek9.com
).
You DO NOT need to be a PSA member to win!
This is the ad for the raffle, however, I know it's small, and might be hard to see (so below it I have put the link to the full-size ad).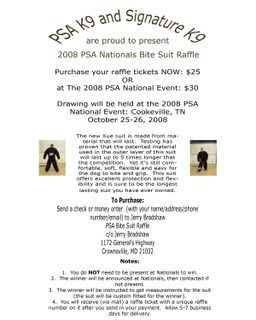 http://i42.photobucket.com/albums/e310/ ... Adcopy.jpg
Tickets are $25 before Nationals, and $30 at Nationals. The drawing will be held at the PSA National Event in Cookeville, TN, October 25-26, 2008. You do not need to be in attendance to win.
The suit is called the "Xue" suit. This patented outer material will last 5 times longer than materials traditionally used. I've seen the suit in person, and it's really nice....
If you are interested in purchasing a ticket (all proceeds will go to paying for the suit. Signature K9 is charging PSA for the cost of the suit only), you can send a check or money order to Jerry Bradshaw (East Coast PSA Director), and mail your check or money order along with your name, address, phone number, and email address, to:
PSA Bite Suit Raffle
c/o Jerry Bradshaw
1172 General's Highway
Crownsville, MD 21032.
You will receive a raffle ticket back in the mail, and the other half of the ticket (with your name and address) will be entered into the drawing. Please allow 5-7 days for delivery of the ticket.
Good luck! If you'd like more info, please PM me....
P.S. Thank you to Michelle and the rest of the staff for allowing me to post this!