Hi all! Found this board mentioned on another Pit Bull board I frequent.
A little about me- I've owned Pit Bull terriers for 22 years now. I don't breed, never have. I'm currently a volunteer with a prominent Pit Bull rescue organization here in California (I failed Fostering 1A, more on that when we get to the exciting part of my into, which is, of course, the dogs) I work as a Manager at PetSmart (mostly because I get SO much opportunity to try to educate/reach fellow Pit Bull owners there) I am always learning, so the more people I can speak with, the better!
Now for the dogs! I have Mystique, a 14 month old DA bitch (literally) Total people love-slut as she should be, but a little hot otherwise. She is currently in training for her CGC and we are working diligently on the 'ignore other dogs' part.
Mystique and my daughter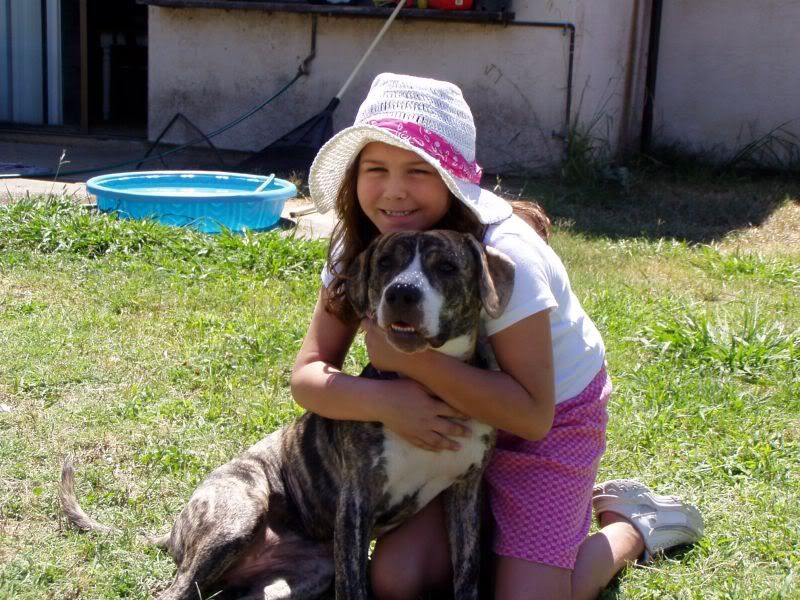 Then there is the failed foster experiment, Martin. He is a Hurricane Katrina survivor who was trapped in an attic for 2 weeks and nearly dead when finally rescued. He was pulled from Lamar-Dixon by BADRAP and brought to California. He looked like this
Needless to say, I fell hard for this sweet boy and after heartworm treatment and a lot love, here he is 6 months later
and in June on his AdoptaBirthday (when we went full adoption on him.