Hey all.
My name is jennifer and I proudly share my home with two furry kids. My eldest just turned two. His name is Herbie (yes as in the Luv Bug) and we rescued him from the OSPCA when he was 6 months old. Born at the shelter from a Pit, he was adopted out at 9 wks only to be returned at 5 months due to the new legislature in Ontario Canada. The owners were getting badgered by the entire neighborhood and couldn't deal. I volunteer at the shelter and fell in love immediately. He's a total suck and enjoys nothing more than just having contact in any way sahape or form. (we dont know what his father was...but its posibbly Lab as he's a tall boy)
My younger baby is Steeler. She just turned 1 mid april. Her story is sadder...but with a very happy ending. At three weeks of age (yet again due to this ludicrous stigma on the animals since the ban was introduced) Steeler and her 6 littermates were abandoned in a black garbage bag in a dumpster. I won't vent on my thoughts on this right now...
She was found by a nice lady walking by that heard the cries from the hungry babies. They were all brought in to the shelter and fostered out. One of the technicians at the shelter fostered three of them..one which she kept...one which her sister took and Steeler, whonow happily resides with her Big furry brother Herbie. I took here in at 9 wks. She is such a sweetie pie. She is considerably smaller than the Herbman, and hasn't yet thickened out. We think she's Amstaff. I'll post pics and see what you all think.
I'm from Toronto and am currently having to deal with all sorts of propoganda being spread through the media, totally frightening everyone who has never met one of these impish monkeys. The personalities on these guys are too much. I've been a volunteer for years, never necessarily WANTED to take on a Pitty...but when the time came to look for a companion animal, i took the time to get to know all of the animals in the shelter and found the one that fit me personality wise. Then again, fell in love with Steeler when she ambled over to me right over top of her sisters!!LOL.
I work for a Chevy dealer in the parts dept. i'm a football fanatic, well who am I kidding..I live and breathe Steeler football (along with my doggies and their fun stuff) and Leaf hockey. I love photography and anything to do with animals. I'm a member at the Toronto zoo and visit frequently. I can't wait to get to know you all and your babies.
Here are the babies. The black handsome one is herbie and the brown and white sweetie is Steeler.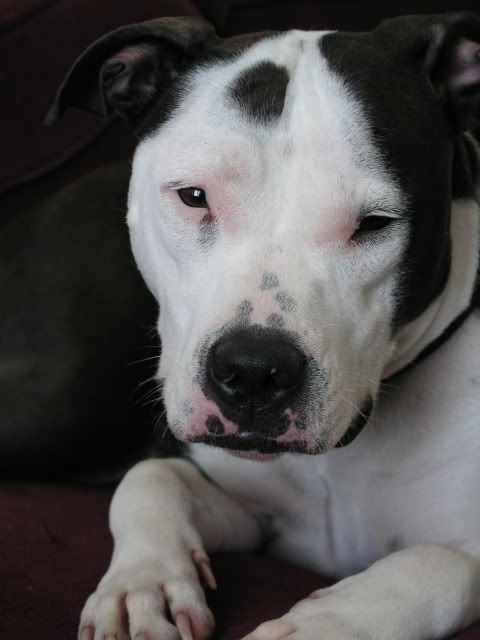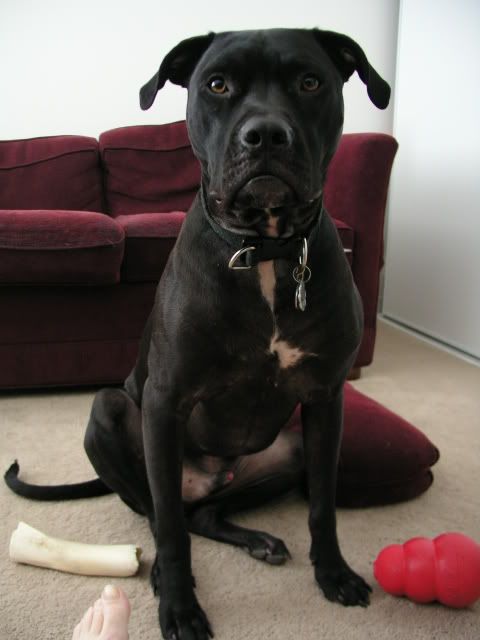 My fave pic of herbie is him in his chair...i had to shrink it for another site...but here it is.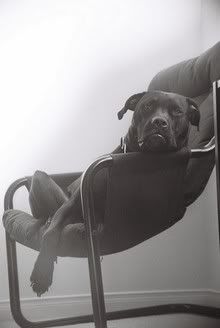 and here is Steeler the day we brought her home.