Hi, my name is Erica, I'm from NJ. I'm a wildlife artist and my husband is an accountant (he might join the board later). We don't own a pitbull but my parents do. So, he feels like a member of our family. We live close to my parents so I see them often.
My parents pitbull is named Louie. My parents were fostering a cat (which they have adopted since then) and walking into a pet store for her food. Louie was there for adoption and it was love at first sight. He was supposed to be a feeder dog for dog feeding. Someone took pitty on him and instead of being fed to the dogs he was brought the shelter. He's an amazing dog and we love him so much. He's adopted at 4 months old and he's been in our family now for 2 years.
(These pictures are Clickable Thumbnails)
Louie as a puppy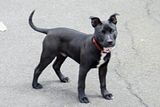 Louie all grown up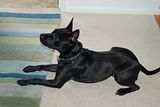 Giving kisses to Marc (my husband)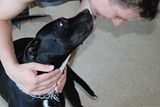 Sitting with Stella
On the weekends my husband and I like to help with rescue transports. There's also a rescue group that we work closely with and we help with the adoption events. We got into volunteering with rescue because our best friends were involved with it. It's wonderful to do this with my friends and also help dogs (and sometimes cats) get adopted out. Right now we're currently not fostering any dogs. We're hoping that a very large garage sale can add some additional space for fostering.
In our home we currently have 4 pets. Two dogs named Stella and Lorna. Both are King Charles Cavalier Spaniels. Lorna, the newest dog to our home, was a rescue. She was a former Puppy Mill breeding dog. She's healthy and happy sleeping on her pet water bed all day. We also have Simon a very large red cat. He's the boss of the house and will tollerate the dogs. Simon likes to chase one of our dogs, Stella. We also have Sophie a Chinchilla. I've had Sophie since I was in college. She's 12 years old now (Which is why we needed dogs with a low small prey drive in our home. The animals don't mingle with each other, but I didn't want Sophie to live our her senior years with an animal drooling outside her cage. Lorna and Stella are curious, but really don't pay too much attention to her.) Since I work from home, all the animals are with me in my studio during the day. Sophie's cage is in here and the dogs have several sleeping options (including a huge Costco pet bed). The cat will come in here, but usually in the winter time when it's a bit darker form him to sleep.
The dogs together at my parents house (they have to sit in one area while the people eat).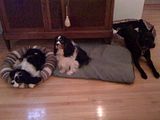 My two dogs, Stella and Lorna.
Simon
Sophie