HELLOOOOOOOOOOOOOO!!! Thank to MaryEllen, she told me about this website since our dear old departed Pit Bull Corner. I'm not sure who remembers me but it's been awhile. A lot has gone on over the past year.
My rescue Suelie, who is now 2, the one I took from the man who was beating her... well she was 52 pounds when I got her she is now a very health 71 pounds. The vet actually said she was a little under weight, go figure. Of course she is Pitbull and Cane Corso so I guess she should be a little bigger. We have been walking two hours a day, one hour in the morning and one when I get home from work. She now has social skills and doesn't feel the need to pounce on every female dog she sees.
When we first got her: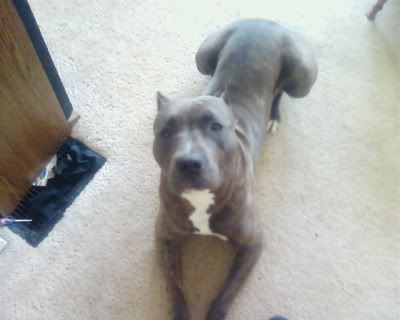 and now:
She has filled out a lot. The collar is hand made, leather 3/4" by my friend Corey at OverKill Collars.
http://www.overkillcollars.net/default_ ... ge0001.htm
In case anyone wants to see his work.
Max is now 5 and he is the best dog in the world. He keeps Suelie in line when we aren't home and she keeps him young at heart.
he's our APBT/AmStaff Mix.
I hope everyone had a wonderful holiday and Happy New Year to all.