Hello fellow dog lovers, I'm John and I'm from Indiana.
I had my last pit bull for 13 years, her name was Baby and she was a wonderful dog.
She had cancer in her liver and then it spread to her lungs and I had to have her put to sleep.
This all happened in June 2007 and it was so much harder than I thought it would be, I knew I wanted another one but I needed some time.
Here are some pics of Baby......RIP Girl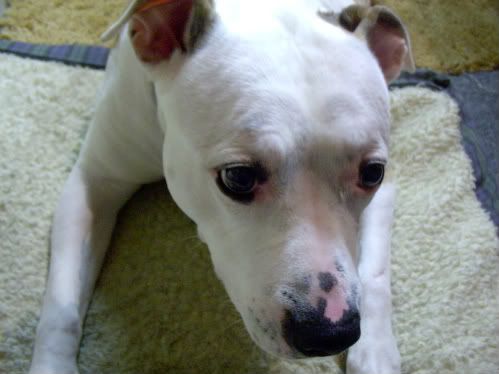 Well a couple months ago I started looking for another dog, after having Baby I knew I wanted another pit. I was searching all over the web and one local dog I saw on PBRC really caught my eye, her name was boo boo. I filled out the online form but I didn't hear anything for a week or two, I thought maybe she was already gone to someone else.
Well then the next day I got a E-mail from Tom (the guy that has been caring for boo boo) and I finally got to meet with boo boo. As soon as she got in the door I just had the feeling that she was going to be perfect for me. She is so sweet and playfull and just so fun to be around(aren't all pits
).
Well a week later she arrived and she has been here for 11 days now and is doing great here.
She has so much energy and really cracks me up at times...she's a real clown for sure.
I'm doing my best not to spoil her too bad but I was without a dog for over a year so it's not easy
Here is boo boo in her new forever home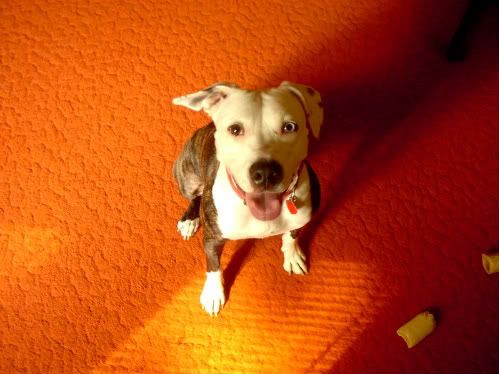 It's good to have a dog around here again
Thanks again Tom, you know your welcome to come by and see boo boo any time you want. She sure was happy to see you tonight.
She is incredible, she is the perfect dog for me...I just need to leave my camcorder out of her reach