Hey,
My name is Kristen. I am 20 years old and live in Arizona. I am also a member of petbulls on LiveJournal. I have loved pit bulls for the past 4-5 years. It all started with Felony. She was our first one (my mom got her while I was still in high school). I was the one who trained her for the most part, and she was such an amazing dog. Because of a freak accident with a can and suffocation, Felony is no longer with us. I still miss her dearly, as she just passed away last summer. I had called my mom (I now live in my own apartment an hour from her) to ask her about stew, and she had to tell me about Felony over the phone. I called into work and I think I cried harder than when my grandpa died. My boyfriend drove me to my mom's house that night. It was as painful as losing a sister (not that I have one, but with three older brothers, I can imagine).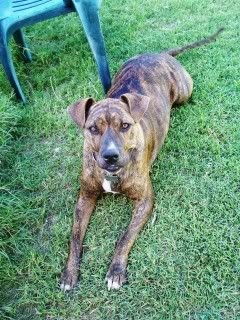 As bas as it hurt, soon after we realized we needed another dog. No, he could never take the place of Felony, but we needed that companionship and love. Thus my mom got Bouncer. The same day, my brother, who always wanted a dog, got his littermate, Toby. Bouncer is a chocolate brown with white and Toby is a nice golden/yellow color with white. Beautiful boys. Well, I helped train Bouncer when I went to visit and soon my mom ended up with Toby as well, because my brother's wife doesn't like pets and they ended up having a nonfur kid and she didn't want to keep Toby. Sad for him. Uncertain for Toby. Inconvenient for my mom. Wishful thinking for me. Since my Mom and Dad were going to be moving to Oklahoma mid April, they needed to find Toby a forever home. I offered to help, wishing I could take him, but knowing that the owner of the house I would be renting said a cat was okay, not a dog. Then my boyfriend talked to him about a dog and he immediately agreed. So we are official Toby's new mom and dad. He was shuffled around for such a long time between my brothers and my mom that he never really belonged anywhere. But wherever I go, he'll belong with me from here on out. We are moving into the house on the 16th and he's coming with us!
Toby is a little less than a year old, microchipped, and will be getting neutered a few weeks after we get him (so he has time to get used to living with us and finals will be over).
Other than that, I am studying biology, not sure what my career will be, but I'll decide someday. Haha
What else? I also love horses and have my entire life. I don't have any currently, but I did all throughout high school and am waiting for college to be over someday so I can invest in another one.