But look who's finally crate trained!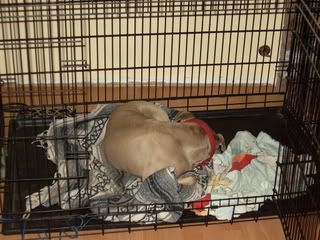 I'll have you notice the open door, too. This is the dog who first left alone in my car, ate a bit of the dashboard.
We tried to crate him and when we came home, he'd somehow teleported out of the plastic airline crate and courteously latched the door behind him.
When he was adopted he was returned after they tried to put him in a crate and he broke out and pooped on their bed. (Not that I blame him.)
With Michelle's help we started working with him almost a year ago. We started by feeding him in the crate and letting him chew on super yummy treats only while in the crate. We did that for months and then I eventually just tethered him next to the crate while I rotated other dogs through it. Let him see that it really wasn't the torture he was convinced it was. Now he voluntarily goes in there....it's his little safe spot.
Yay for Doogie!