This is Charlie, my newest foster. I brought him home Sat night/Sun morning. He's an Akita/pit bull mix, about a year, year and a half, old. He was at the shelter and was going to be PTS because shelter staff said he was mean. He growled.
Well come to find he wasn't growling, he was just a grumbly gus! Everytime he was given a command (sit, down, etc) he would do it, but would growl and grumble the whole way through. Talk about a dog with personality!! So he's been with a trainer for about a month or so now, and I've taken him on as a training foster. This way I learn how to train correctly, and he learns some good manners and cool tricks.
So without further ado, here's Charlie doing his "sit pretty"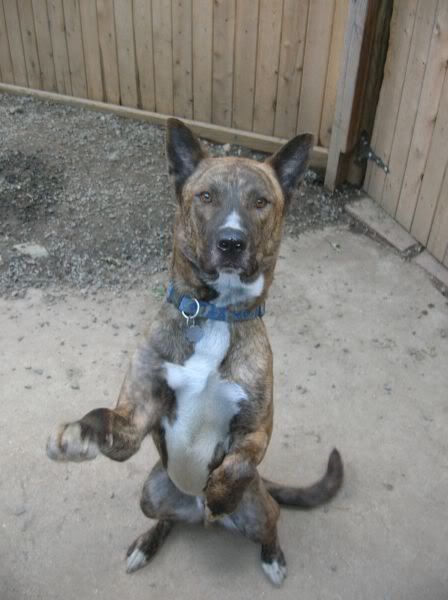 Also it's been a crazy two weeks for fosters here! First I picked up a Dogue de Bordeaux. She was in my car for an hour, didn't even make it back to my house, when she was adopted by one of my friends on our way home. Then I took on a Malanois pup who I had for only 5 days and he was placed in a home (I BAWLED my eyes out . . . this dog was awesome . . . I rarely ever cry when placing fosters and have definitely never cried like this). And now I have Charlie, who will probably be a longer term foster so I can get my training skills underway and he can become an intensely trained beast. Either way, he's a cutie, and so far has been very quiet (maybe Halo can learn something from this, the pain in the butt annoying loud mouth that he is).
So now my house is filled with three big brindle boys. I'm beginning to notice a pattern . . .